I Tried Kourtney Kardashian's Poosh Collagen Powders & I Have Thoughts: Review
@theglossarray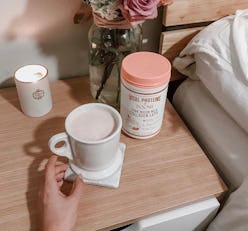 Little-known fact: I used to work for the Kardashian-Jenners back when they launched their Official Apps in 2015. But instead of tempering my obsession with the sisters, getting up-close-and-personal with Kourtney, Kim, Khloé, and company only made me love them more. I'm still a little starstruck, I think they're brilliant business women, I support (almost) everything they do. So obviously, I did not hesitate to spend $93 on Kourtney Kardashian's Vital Proteins x Poosh collagen powders — her lifestyle brand's new collaboration with Vital Proteins — the *literal* minute they launched. What can I say? I'm a super-fan and a skincare enthusiast. It just made sense.
Of course, considering said skincare enthusiasm, I know that ingestible collagen is not actually, technically proven to plump and smooth skin the way the body's natural collagen does. "When we take collagen by mouth, it is broken down to its component amino acids by our G.I. tract," Dr. Joshua Zeichner, a dermatologist with Zeichner Dermatology in New York City, tells The Zoe Report. "It is thought that these particles circulate throughout the body and actually stimulate our cells to make new collagen, fooling them to think that collagen has been broken down and making them produce new collagen to compensate — but it's unclear how effective ingestible collagen truly is." Skeptics may hear that and think, "Pass." I hear that and think, "Worth a shot!"
Kardashian feels the same. "Kourtney Kardashian has been a fan of Vital Proteins for many years, taking our Collagen Peptides as part of her morning routine," Caryn Johnson, the SVP of Marketing at Vital Proteins, tells TZR; calling the partnership a natural fit. "Both Poosh and Vital Proteins are centered around providing premium, high-quality wellness options and making those products attainable," she explains. "The hope is to inspire others to care about what they put into their bodies — and to make wellness fun and exciting."
"Fun" and "exciting" is precisely how I'd describe the feeling of unboxing my two beloved Poosh powders: Blueberry & Lemon Collagen Vibes (a daytime supplement that can be stirred into hot or cold beverages) and Pink Moon Milk Collagen Latte (a sleep-supportive supplement intended for hot lattes before bed). The packaging is just plain pretty — think shades of pastel pink and lavender with metallic touches. What's more exciting, though, is how hands-down delicious the stir-in supplements are.
Blueberry & Lemon Collagen Vibes smells super-sweet in the jar, kind of like lemonade. When I mixed some into an 8-ounce glass of cold water, though, the sweetness dissipated (in a good way) and made for a light, fruity taste courtesy of the formula's other star ingredient: amla berry. "Amla berry is an adaptogen known to help boost a youthful appearance while also providing the body with powerful antioxidants," Johnson tells TZR. As an antioxidant, the berry defends against the effects of pollution on the body (which often include signs of aging, like fine lines and hyperpigmentation). The powder also features hyaluronic acid — yep, the same stuff that's in your favorite serum — to promote hydration from the inside out.
Personally, I'm partial to the Pink Moon Milk Collagen Latte since it's a little less sweet and a little more milky. It relies on bone broth collagen to "support moisture and elasticity of the skin and help preserve a youthful appearance," per Johnson. But what sets Pink Moon Milk apart from other collagen powders on the market is the inclusion of melatonin and magnesium, both of which have been shown to encourage a good night's (beauty) sleep. In just a week, this has become a non-negotiable part of my bedtime routine.
Sadly, I can't say for sure whether the Vital Proteins x Poosh collagen powders deliver tangible skincare benefits just yet. "It usually takes two to four weeks to see a noticeable improvement in the health of skin, hair, and nails," Johnson explains. "I personally started seeing beauty results after 10 days of consistent use — my skin looked more luminous and my nails were stronger than usual." With perks like that (hopefully) on the horizon, I plan on keeping both Poosh powders in my daily rotation.
The collab is currently sold out on Poosh.com, but Vital Proteins tells TZR to expect a restock "soon." Ahead, the links to bookmark for future use — because trust me, you're gonna want to stock up. (One word of advice: If you do test the supplements for yourself, invest in an electric frother to help blend. These powders are dense and aren't the easiest to stir, and a high-powered frother makes all the difference.)
Shop Vital Proteins x Poosh