Healthy And Delicious Vegan Burger Recipes To Try This BBQ Season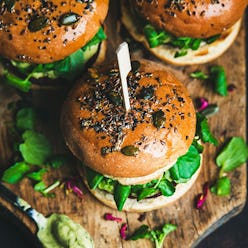 Memorial Day Weekend has come and gone, and with that, we've celebrated National Burger Day and the official kickoff to barbecue season. While some of you may have enjoyed a juicy burger or two, others may have been left craving a meatless version that surpasses the cardboard-like flavors of most store-bought brands.
Determined to find the best of the best vegan burger recipes that are not only healthy and packed with nutrients but also full of flavor, we tapped experts from burger chefs to plant-based-eating gurus for their favorite vegan recipes. No meat, no dairy, no eggs—and packed with all the good stuff like protein, fiber, vitamins and more.
If you're looking for a meatless way—or simply, a healthier way—to become the star of the next backyard grill-off you attend, feast your eyes on these recipes. We guarantee vegans, vegetarians and meat lovers alike will be left full, energized and satisfied.
For more recipes, visit Nylon .
Vegan Burgers, Black Tap
If you're not already familiar with Black Tap, NYC's favorite burger and milkshake haunt (and originator of the epic goth bagel), we suggest you pay a visit soon. While known for its regular burgers, the menu also includes two meatless versions, including a delicious vegan option. Chef and owner Joe Isidori shared his recipe with us—it's made with a base of black beans and brown rice, so you can expect a healthy, protein-rich alternative to meat.
Ingredients: 3 cups brown rice 1 tbsp paprika 1 tbsp chili powder 1 tbsp oregano 1 can black beans 1/2 bunch cilantro 1 medium red onion 5 oz jalapeno 2 Rudy's Vegan Buns (toasted and turned into breadcrumbs)
Directions: Cook brown rice using a proportion of two to one (water to rice), season the water with paprika, chili powder and oregano. Cook over low heat and covered until al dente, then let cool at room temperature. Next, rinse beans and set aside. Mix cooled rice with all remaining ingredients, folding in breadcrumbs last. Refrigerate the mixture for a couple of hours before making into patties.
Ultimate Date-Night Veggie Burgers, Sakara Life
We love Sakara Life's food ideas even more than we love its beauty chocolates. So we knew we had to tap founders Danielle DuBoise and Whitney Tingle for their favorite veggie burger recipe—and this one does not disappoint. Not only is it delicious, it's actually good for you! "This clean, plant-based burger is packed with plant protein from white beans, as well as skin-brightening, youth-promoting antioxidant carotenoids from sweet potato," says Danielle. "And, unlike most burgers, it also contains a helping of your daily greens in the form of spinach, which is a great source of fiber, a nutrient most people are deficient in, to support gut health."
Ingredients: 1 medium sweet potato, baked and peeled 16 oz cooked white beans (canned, drained and rinsed) 1/2 cup white onion, chopped 2 tbsp tahini 3/4 tsp apple cider vinegar 1/2 tsp Himalayan salt 1/4 tsp black pepper 1/3 cup oat flour (ground from wild oats) 1 cup spinach, finely chopped 1/2 cup cilantro, finely chopped 1/4 cup fresh basil leaves, finely chopped 2 garlic cloves, minced 2 tbsp ginger, grated finely 1/2 tbsp sesame seed oil 1 tsp lime juice 1/2 tsp ground coriander 1/2 tsp cumin Coconut oil for cooking
Directions: Bake sweet potato at 400 degrees for 40 to 60 minutes, until tender. Rinse white beans under warm water. Once the potato is done baking (leave the oven on!), discard the skins and mash into a mixing bowl with beans. Fold in the onion, and keep on mashing. Next, add all remaining ingredients and mash until the mixture is well combined. Once mixed, form large patties and cook with coconut oil on a skillet over high heat. Cook for about two minutes on each side, until they begin to brown. You can either repeat with remaining mixture or freeze to save for later in the week. Danielle and Whitney suggest serving between gluten-free or sprouted grain buns, finishing off with all of your favorites: "Creamy avocado, sweet ketchup and mustard, lettuce, onion, sauerkraut—the choices are endless!"
Mushroom Burgers With Asian Slaw, Sprouted Kitchen
Sara Forte, the brains behind healthy-eating, veggie-heavy blog Sprouted Kitchen, shared her wonderful Mushroom Burger with Asian Slaw recipe with us. We must say, it's pretty damn delicious and packed with flavor. As Sara explains on her blog, when it comes to marinating veggies and tofu (unlike meat), you can place them back in the marinade after cooking to soak up even more flavor. Yum! Ingredients: Burger patty: 4 large portobello mushrooms 2 tbsp low sodium soy sauce or tamari 2 tbsp maple syrup 1 tbsp toasted sesame oil or extra virgin olive oil Squeeze of lemon or lime Pinch of pepper Asian slaw: 2 carrots 1 small English cucumber 1/2 small red onion, thinly sliced 2 tbsp tahini 1 tsp low sodium soy sauce or tamari 2 tsp toasted sesame oil 2 tbsp rice vinegar 2 tbsp fresh mint, roughly chopped 1 small bunch cilantro, roughly chopped 2 avocados Sriracha mayo (use vegan recipe if vegan) 4 buns Directions: Wipe the mushrooms clean, removing stems. Preheat grill or grill pan to medium heat. In a shallow pan, mix together soy sauce (or tamari), maple syrup, oil, splash of citrus and pepper, then add in the mushrooms, rubbing the marinade into all surfaces. Let them sit five to 10 minutes to soak it up. Next, using a julienne or vegetable peeler, shave the carrots and cucumber into thin or thick shreds respectively. Put them in a large mixing bowl with the red onion. Make a quick dressing by whisking together the tahini, soy sauce (or tamari), sesame oil and vinegar. Pour it over the vegetables and toss to coat. Add the chopped mint and cilantro, giving it all one more toss. Grill the mushrooms for five minutes on each side, or until they're soft throughout. Grill or warm the buns. To assemble the burger, smash half an avocado on the bottom of the bun, then top with grilled mushroom and a big scoop of Asian slaw. Spread a bit of sriracha mayo (using a vegan option if needed) on the top bun and enjoy.