This Decor Idea Will Totally Revamp Your Living Room — And It Won't Cost A Dime
Freeform/Shutterstock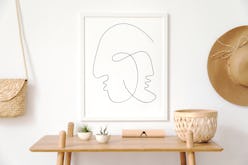 When you're being strict about your spending habits, it can seem like revamping your home the way you'd like just isn't in the cards — especially when it's a dramatic change you're seeking. But besides the fact that setting aside budget for your update can help you eventually get there, there are actually a handful of home improvements that cost you nothing, and they create a bigger impact than you'd probably expect.
Yes, it never hurts to be able to spend a few bucks on the kind of decor essentials that will last, but that's not all there is to a well-designed home. Just ask Greenville, South Carolina's Caroline Brackett of full service interior design firm Caroline Brackett Studio of Design. Although she knows that some pieces are decidedly investment-worthy, there are also ways to work with exactly what you already have to make a big difference.
From moving around your accent pillows and art pieces to finding a totally free solution to introducing some greenery, some of the simplest cost-free tricks could help you get the refresh your home's been in need of — at least until you can spring for that sexy new sofa. In the meantime, see ahead for Brackett's five suggestions for the $0 ways to improve your home dramatically right now.
Start Over With Accessory Placement And Arrangement
Before you start doing the heavy lifting, Brackett suggests starting small — like repurposing and rethinking some of your decor accessories. First, she advises taking the Marie Kondo route and gathering them all in one place to re-evaluate. Next, start getting creative.
"Stack coffee table books horizontally in the bookshelves with an interesting object on top," she recommends. "Place a large object that is heavy visually alone on a shelf. Use something interesting as a bookend for those bestsellers. Pull out those candlesticks that you never use for your mantle or cocktail table. Freshen up your tablescapes and bookshelves using what you already own in new and different ways."
Head Outside For Floral And Greenery
Not only does having a little greenery in your home make it feel more vibrant, but in some cases is can actually improve the health of your home. That said, you don't have to splurge at the nursery to get this effect. Just look around and work with what you can,
"Grab a market basket and sheers and head outside," says Brackett. "Clip simple greenery for a bud vase to place in the powder room. Cut magnolia stalks for a dramatic dining table arrangement. A simple Elephant Ear leaf in a streamlined vase on the island feels so modern and chic. There is beauty growing all around outside that can liven up any indoor space."
Launder Upholstery And Pillow Covers
Keeping your furniture and accessories clean sounds like a no brainer, but ask yourself when the last time you laundered that pillow cover" Exactly. "You may be surprised at how dingy your upholstery and pillows have gotten," explains Brackett. "Take off the covers and run them through the wash (always air dry) for an instantly cleaner and brighter feel. Take it a step further and vacuum the rugs and window treatments. Then take a deep breath — it will feel like a new space!"
Rearrange Furniture In A New And Outside-The-Box Way
"You may need some extra (wo)man power for this one," Brackett says. "Does your living room have to stay the living room, or could it become the dining room? Could that sitting area become an office instead? Take some time to measure the furniture you have and rethink new ways and places to use it. Mix it up! Moving things around gives new life to your rooms and the pieces you already have."
Set The Table
Don't let your your dining room table just sit there collecting clutter or dust when it could actually be making your home feel so much more warm and inviting. "Pull out your china, linens, silverware, and drinkware and set the table," says Brackett. "Throw on the aforementioned natural arrangement and candlesticks, and voila. The table is adorned and beautiful, making the overall appearance of the room feel more finished and fresh. It's a lot prettier to see on a daily basis, and who knows, maybe it will inspire you to throw that dinner party you've been pondering."