5 Uncomplicated Dip Powder Nail Design Ideas To Try This Weekend
Anna Webber/Getty Images Entertainment/Getty Images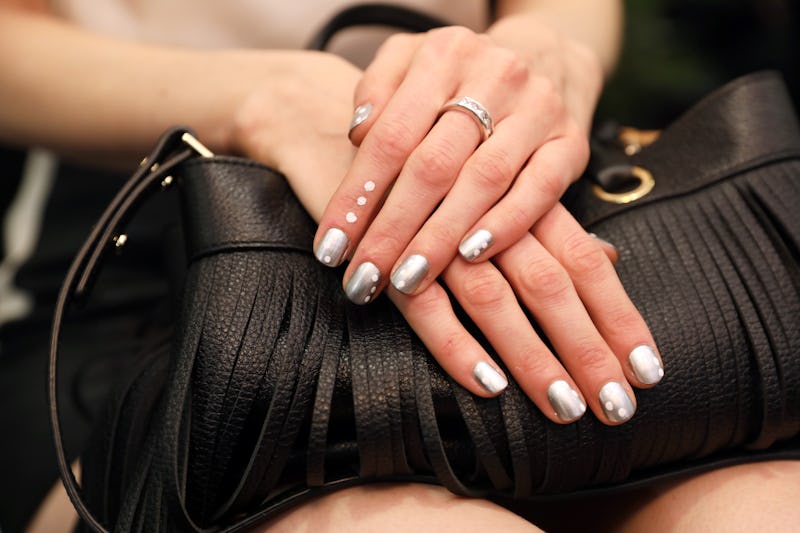 There's a reason why Pinterest searches for powder dip nails were up 442 percent in 2018. They last for weeks, they don't require exposure to UV light, and the finish is nice and matte. And even better: You don't have to be restricted to just one color. Powder dip nail designs are slowly but surely becoming A Thing™, adding an element of versatility to the trend that refuses to disappear.
In case you're still wondering about the difference between a gel and a powder manicure, it all boils down to the process. "With dip nails, you're essentially getting a basic manicure in the sense that you pick the color, and a base coat is applied," celebrity nail artist Erica Marton tells TZR. Your nails get dipped in a powder made from silica, which has a dust-like texture. After that, your nails get sealed with a topcoat. Once the powder dries, you're free to top your base with designs and embellishments, like usual, Marton explains.
It might seem like it'd be difficult to add designs to a powder-based manicure, but luckily, it's no different than any other nail art process. It actually saves a few minutes compared to gel manicures. "I use acrylic paint, brushes, and dotting tools. I sometimes use polish and stamping plates too," nail artist Meagan Braiman says.
Though creating art on a powder dipped canvas is pretty straightforward, Sigourney Nuñez, OPI's North America Education Manager, notes that OPI has a different approach to powder dip nails. "We use our Clear Color Set Powder last. Adding the Clear Color Set Powder after the colored powder helps create a protective barrier to avoid filing through the colored powder," Nuñez says. The Clear Color Set Powder acts as a sunscreen for your nail and helps to combat discoloration. It also further strengthens the overall application.
For fall, Nuñez is spotting nudes with a hint of purple, as well as shimmer sapphire blue. And on Braiman's end, jewel tones, glitter ombrés, and floral prints are perennially popular.
Ahead see the simple, chic, fall-inspired powder dip nail designs that you'll want to show your nail artist at your next appointment.
Abstract Florals
"For this look, I used acrylic paint in white, red, and black. I like to use Wistonia brushes when it comes to creating nail art," Braiman says. "I then took the black paint and drew thin lines to look like branches on all the nails. Then I used pink acrylic paint and created C shapes to make the flower petals," she says.
Braiman notes that she completed the same steps on each nail. And to finish, she adds white on top a little off-center so you can still see the pink. "I then take a dotting tool and add the small black dots in the middle of the flowers."
Deep Ombré
Braiman says that powder does all the work for a look like the above, done by Five Stars For Your Nails. "I like to dip the nail in the lighter color first, brush off the excess powder, then I reapply the base liquid and tap the darker color at the tips or base with a fluffy eyeshadow brush," she explains.
To finish the nails, "I take the lighter color and put that over the rest of the nail. I brush off the excess again and apply base liquid again — it creates a gentle gradient with the desired colors."
Glitter Accents
Braiman notes that you can create a glitter nail design, like this Tifanie Nails creation, by dipping your fingertips in a personal container of glitter while the polish is still wet. Or, have your nail artist brush some sparkle on one your layer of powder dip has dried, sealing with a topcoat.
Gold Flakes
Have your tech mix a gold-based powder and sprinkle it it wherever you desire — or just in one place, like with this simple and chic accent nail.
Bright Lines
Nuñez also notes "lots of line work," being used in her purview. Diagonal and horizontal stripes like these are simple to do and pretty to look at, too.