These Trending Celebrity Haircuts Are Here To Inspire Your Next Winter Look (& They're All So Versatile)
Neil Mockford/GC Images/Getty Images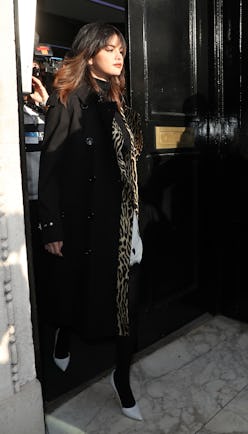 With the arrival of a shiny new decade, there's never been a better time to embrace change. Sure you could do so in a big way, say by making a career shift you've always dreamed of or by moving somewhere totally new, but sometimes smaller switch ups can still have major impact on your perspective. Case in point: A cool, fresh hairstyle that brings forth a bold new you. And lest you head to your hair appointment with no idea of what you should do, look to these celebrity-inspired haircuts for winter to craft your style for the season (and year) ahead.
Luckily, there's been no shortage of celeb hair changes in the early stages of winter, so you've got plenty to pick from as you determine your own style for the chilly season. And while seriously short cuts like bobs and pixies are certainly making a strong case for themselves (with everyone from Kaia Gerber to Ashley Benson to Hilary Duff chopping inches), they're not the only looks to consider — good news if you're not ready to totally bid longer locks goodbye. And the best part? Some of the looks are seriously versatile. Start scrolling for proof.
Zoe Kravitz's Pixie Cut
Got the itch to make a major change this winter? Look no further than Zoe Kravitz' late November pixie cut, which helped kick off her Dec. 1 birthday (and the winter season) with a bold new vibe. Nikki Nelms, who also works with stars like Solange, Yara Shahidi, and Janelle Monae, executed the cut that expertly accentuates Kravitz' impeccable bone structure. And possibly the best part about the ultra-short, piecey look? It's incredibly low maintenance – just run a texturizing product through tresses to give them touchable texture and you're good to go.
Shop The Look
Jennifer Lopez's Curly Lob
Superstar Jennifer Lopez has been rocking her lob for a little while now, serving up no shortage of inspiration to opt for the mid-length style. And if you've been toying with the idea of parting ways with some length but haven't taken the plunge just yet, her latest style is proof that the look is possibly the most versatile celeb haircut out there right now. Go-to celeb hair artist Chris Appleton recently gave her shoulder length strands major big hair energy with tons of bouncy, effortless curls that are undeniably chic — and cinch the cut as a must-try for any hair texture.
Shop The Look
Selena Gomez's Shag
For a modern take on a retro cut, take a picture of Selena Gomez's medium length shag to your next hair appointment. The trending look (Chrissy Teigen is also giving it a try this season) features plenty of layers for lots of movement and volume, and telltale fringe to frame the star's face. The '90s supermodel look is an ideal cut if you're looking to make a change without chopping off several inches of your mane, and it can be pulled back with the piecey layers and bangs left out in the front for an effortless vibe ideal for everyday wear.
Shop The Look
Kelly Rowland's Clavicle-Length Bob
Rowland's hairstylist, Neal Farinah, calls her recent cut the "Perfect Bob" — and it's easy to see why. Farinah cut her strands to just barely graze her collarbone, in one sleek length all the way around that says sophistication from every angle. The star's been wearing the style mostly pin-straight, with the ends curled slightly under for a classic, glossy look. But, she's still got enough length to play around with soft waves or even pulled-back looks should she want to. As far as short cuts go, Rowland's is a decidedly versatile choice to get inspired by.
Shop The Look
Miley Cyrus' Modern Mullet
Cyrus has been at the forefront of the momentum-gaining mullet movement, first rocking a longer iteration of the throwback style before taking the look shorter at the end of November. Her cut's certainly a modernized approach to the '80s look, with a smoother transition between length in the back and layers in the front, but still showing off the hallmark choppiness that brings major interest. Just as surprising as the return of the mullet mane? The fact that Miley's mom was the one to make the cut (though the star's longtime stylist Sally Hershberger reposted it on her page, as a stamp of approval no doubt).
Shop The Look