Kaia Gerber's Newest Haircut Took Her Bob Even Shorter — & It's So Sleek
David Livingston/Getty Images Entertainment/Getty Images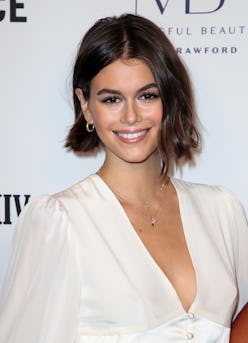 The sudden (and very stylish) appearance of Kaia Gerber's short bob confirms one thing this season: Celebrities have decided that when it comes to hair, the shorter the better. Stars from every corner of the industry have been making the cut one after the other — and if they were already rocking ultra-trimmed locks, they're taking their tresses one step shorter for ultimate drama.
Such is the case for born-and-bred supermodel Kaia Gerber, who first started shearing inches off her tried and true below-the-shoulder lob back in June. The self-dubbed "drama cut" was executed by hair artist Guido Palau, who has worked with the likes of Gigi Hadid, Karlie Kloss, and more, and immediately sent Gerber's strands into completely on-trend territory. But evidently, the model wasn't done making waves with her mane.
When Gerber attended an event for Emily Ratajkowski's Inamorata line on Dec. 8, she revealed on social media that the chin length bob she's been rocking since the summer is now even shorter — like, dramatically shorter. If anything, it's proof that the celeb set are nowhere near over the bold bobs that've been rolling out since Gerber (and several others in her crew, like Bella Hadid) adopted the style this year.
In Gerber's Instagram post, featured above, she gives a profile view of the seriously short style for her five million followers. Her warm brunette locks now fall barely at the top of her jawline, and she's got them primly pulled back and slyly tucked behind her ears. The polished look is effortlessly chic in a cool, French girl sort of way, which is pretty fitting considering the cut seems to have had its runway debut during Chanel's Metiers d'Art show on Dec. 4.
Taking into account how many ways Gerber wore her previous cut — from beachy waves to sleek and straight to glamorous Hollywood curls — it'll be particularly interesting (and probably pretty inspiring) to see what the young model does with this new look. Savvy short haired fans will do well to stay attuned to her social media accounts.
Got a similarly short hairstyle, or planning to make the cut? You'll need to have these necessities on hand to nail the polished vibe like Gerber.
Shop The Look