Ashley Benson's Newest Haircut Can Be Styled So Many Ways
Jon Kopaloff/Getty Images Entertainment/Getty Images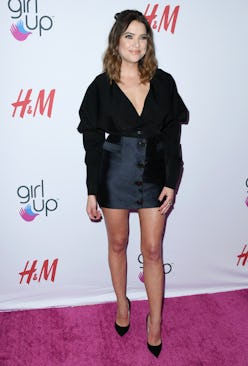 Either there was an industry-wide memo sent out, or stars have taken to double-daring each other to go shorter and shorter with their 'dos — because Ashley Benson's short bob just got another chop. It's the latest in super-trimmed hair transformations that the actress has been a major player in, and the move essentially proves that the bobs and lobs popping up all over this season are cuts that have not only caught on but are likely sticking around for quite a while.
Sure, Bella Hadid recently traded in her truncated tresses for a waist-length wavy style, but anyone attuned to the Hollywood glam circuit knows that she'll part ways with those extensions eventually and return to the ever-growing crew of celebs with cropped manes (if only until her next fashion show appearance). But back to Benson.
Clearly, 2019 has already been a year of hair experimentation for the star, considering she's already gone from her signature long blonde locks to a grown-out warm ombré look to a sun-kissed chocolatey brown. And all the while, she was slowly parting with inches to create a gradually shorter 'do. Now, it looks like she may have reached the final stage of her hair transformation. For now.
Benson showed off her fresh cut on Dec. 2 in a multi-image post on her Instagram, playfully captioned "The Bobson by @marcmena". Clearly, she worked with hairstylist Marc Mena to achieve the new style, which now grazes her chin in effortless, full bodied layers with lots of movement (as seen in the handful of pictures Benson posted, where she tosses her tresses in all manner of directions). The versatile look allows her to take multiple parts and play with lots of angles and textures, a noted departure from her tried-and-true wavy, center part style.
The shorter cut also marks a final departure of her warm caramel-hued ends, which helped Benson smoothly transition from the sunny blonde shade she'd been known for to the deepened brunette color she adopted this fall. Now, the bob is a sophisticated chocolate brown through and through, that'll no doubt serve her well during the winter season by adding polish to festive holiday numbers.
While you're checking out her stylist's Instagram for further inspiration, though, you may notice Mena's bio dubs him the "Extension Emperor" — so don't be too surprised if you suddenly see Benson playing with a longer look à la Hadid.
Said goodbye to several inches lately? Style your bob like Benson's with some short hair essentials, below.
Shop The Look