The Quarantine Eyeshadow Look You Should Try Next, Courtesy Of Tracee Ellis Ross, Lady Gaga, & More
Tracee Ellis Ross / Instagram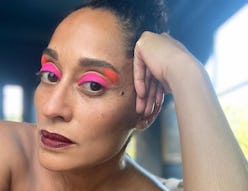 You'd be hard-pressed to find a more fun, beauty-forward Instagram feed than the one belonging to Tracee Ellis Ross. When she isn't gracing us with tasseled hip shakes and throwbacks to her mother's glory days (it's obvious where she gets her fabulousness from), she's often spamming us with outrageously colorful eyeshadow looks, and she isn't the only celebrity doing so.
The amplified desire to create in quarantine has given way to an especially bold makeup trend that Ross is merely leading the charge on. Perhaps as a way to combat boredom, people have finally started dipping their brushes into colors they never dared to wear out in public. Often times even piling a few different hues on at once.
In a tutorial she did for Vogue in April, Bebe Rexha took a page out of Ross' book and debuted bright-blue, David Bowie-like lids. At that point, Winnie Harlow had already been hosting Instagram Lives in which she would go wild with eyeshadow and catty liner. The trend has only escalated since then.
If you haven't already converted your lids into an art canvas, you doubtless will after seeing these five experiment-worthy eyeshadow looks.