4 Pieces Every Meghan Markle-Inspired Wardrobe Needs
Chris Jackson/Getty Images Entertainment/Getty Images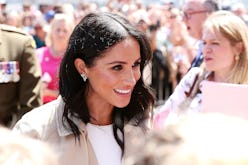 Since making her foray into the royal spotlight, Meghan Markle's wardrobe has evolved into icon territory. Whether she's off on a tour in tropical Fiji or heading to a state dinner, the Duchess of Cambridge continues to serve looks that strike the perfect balance of high-brow elegance and approachability.
The Suits actor is no newbie when it come to fashion. In fact, she's been proving her affinity for winning looks since her arrival on the entertainment scene back in the early 2000s. Still, there's no denying her style has transformed upon joining the royal family, with her sophisticated sensibilities having grown throughout her time at Kensington Palace.
You don't need to be on a first-name basis with the head of high-end fashion houses to channel Markle's classic-but-modern style, though. She's known to switch it up depending on the occasion, but it's been made clear which pieces Markle wouldn't go without. Read on for The Zoe Report's take on four must-have items for a wardrobe that nails the modern elegance Meghan is known for.
The Timeless Trench
Markle isn't above repeating outfits, and one favorite she's worn time and again is the classic trench coat. An undisputed fixture for any stylish woman's wardrobe, it's both fashion-forward and timeless, just like Markle's royal style. And if you're looking for something a bit heavier for winter, opt for a wool wrap coat, the Markle-approved style with a similar silhouette and the ability to keep you warm.
Shop The Look
The Classic Pump
One well-known fact about Markle's style is she loves a good pump. Whether she reaches for classic black, patent nude, or something strappy, the beloved shoe has appeared countless times throughout her style journey — and for good reason. They're chic, versatile, and will simply never go out of style.
Shop The Look
The Power Suit
Even though the Duchess clearly loves dresses, she's not against stepping out of her comfort zone and rocking a pantsuit from time to time. In true boss fashion, Markle has gone against royal tradition more than once, looking so chic and powerful in pantsuits and blazers.
Shop The Look
The Modern Shift Dress
Whether attending royal events or public engagements, Markle usually opts for a modern take on the classic shift dress. Sometimes she matches neutral hues with outerwear for a monochrome look, while other times she opts for statement colors like canary yellow or royal blue. No matter which route she takes, she wears the classic style so well.
Shop The Look