Every Fashion Girl Will Be Wearing This Outfit Next Week
ANDREW MORALES/WWD/Shutterstock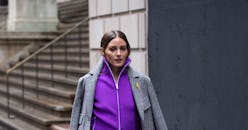 The phrase "back to school" may not be one that applies to you these days, but no matter how many years away high school might be, there's still the draw of uniform-dressing this time of year. Last September, blazers took center stage as the must-own item for fall, but this year, it's all about head-to-toe suiting. Yep, the outfit that's been gathering dust since your last job interview is ready for its moment to shine. And figuring out how to wear a suit without looking too corporate just takes a few small adjustments.
Need proof? Look no further than New York Fashion Week, where show-goers are doing their best to put their own fresh spins on this classic ensemble. And as it turns out, suits can be surprisingly easygoing. The key to success is finding ways to reimagine and remix what you already know.
While you've probably mastered your own version of the jeans-and-blazer outfit already, to keep a full-suiting look fresh, try pairing mismatched pieces together. You can also use an accessory — like a thin rope belt tied around the waist, or a pair of fresh sneakers — to guide the direction of your ensemble, and suddenly, a look that once felt appropriate solely when your CEO was in town is one you'll actually want to wear every day. Similarly, by keeping the cut of the suit and material in mind when you're shopping you'll be better able to find a style that feels of-the-moment. Below, you'll find six simple ways you can try the suiting trend this fall, in the boardroom or out of it.
Mix and Match
Wearing a full suit doesn't have to mean matching head-to-toe. Insteady, try mixing two pieces in similar prints, like a blazer and trouser with slightly different plaids. It feels effortless yet put-together.
Forget The Color Wheel
Traditional thinking says you shouldn't wear colors that are next to each other on the color wheel together, but not only is it outdated — it's just wrong. Take a note from the ever-stylish Kellie Brown hrow the rule out and embrace one of the most on-trend color combinations in the game right now: green and yellow. (Extra points if your entire ensemble is silk.)
Go For Oversize
If suits feel too stiff to you, try looking for slouchier, oversize fits. The relaxed, almost pajama-like cut of a baggier suit feels particularly on-trend right now. Just add mules or flats for a final bit of polish.
Dress Down With Accessories
For a two-minute trick to instantly make a suit feel more dressed down, go straight for accessories. Instead of pumps, try styling your suit with a casual pair of white sneakers. Not only will you be comfier, but sneakers balance out the structure of a tailored suit, helping make it feel as appropriate for weekend brunch as it would for the office.
Swap Pants For A Skirt
Looking for something different than the traditional trouser and blazer combination? Try swapping out pants for a skirt instead. Whether you prefer a pencil-length hemline, or one above the knee, a skirt suit is is an of-the-moment take on this classic ensemble.
Add Some Color
While tradition may hold that suits should be styled with a classic button-down in white or blue, there's no reason that has to be the case. Try breaking up a more muted suit with bold colors layered underneath. Neon hues are all over the runways, and they're a cool choice for styling with a neutral ensemble.