Shay Mitchell Makes Colorful Eyeshadow Look So Wearable — Here's How
Matt Winkelmeyer/Getty Images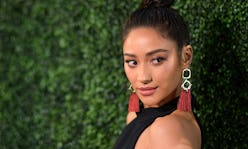 Pulling off a bold eyeshadow look can be tricky, especially if you don't have a professional makeup artist on call at all times (or hours on end to carefully study a makeup tutorial). That's what makes Shay Mitchell's eyeshadow looks so inspiring — not only are they incredibly pretty, but they're also easy to recreate (no matter your experience). That's why The Zoe Report rounded up the actor's easiest eyeshadow ideas, all of which are well-equipped to liven up your everyday makeup routine.
Whether it's for a red-carpet appearance, a makeup-centric YouTube video, or a photoshoot, Mitchell regularly collaborates with celebrity makeup artist Patrick Ta for the ultimate, inspo-worthy looks. Ta boasts an impressive client roster, which includes the likes of Olivia Munn, Jenna Dewan, Gigi Hadid, and Chrissy Teigen.
One of Ta's more frequently used techniques is blending bright, shimmery eyeshadows into a surprisingly wearable look — a strategy he often implements on Mitchell herself. The pair have collaborated to construct looks ranging from subtle washes to vivid magentas and shimmery golds.
Ahead, find The Zoe Report's favorite eyeshadow looks à la Shay Mitchell, as well as the tips, tricks, and products you'll need to recreate the look yourself.
Warm Bronze
This warm, peach-toned lid is an easy way to brighten up your monochrome fall outfits. Bonus: You only need one shade of eyeshadow to recreate it.
Using your fingertips or an angled brush, blend a bronze or orange hue across your crease. Then, using a small brush, swipe your lower lash line with the same shade. To finish off the look, liberally apply black mascara to your top and bottoms lashes for a full, voluminous look.
Rose Gold
Rose gold isn't just for jewelry anymore. Plus, there's a handful of eyeshadow palettes on the market right now that come complete with every color you need to recreate Mitchell's look.
Begin by swiping a neutral shade (think: a warm or light brown) onto your crease. Build upon the look by packing a rose-gold shimmer across your lids, highlighting under the brow bone and in the inner corner with a pale-pink glow.
Smoky Brown
Although it looks like a statement, a smoky eye is actually one of the easiest eyeshadow trends to create (partly because there's so much room for error). Remember: If you make a mistake, just blend it out.
Create this winged look by adding a piece of tape where you want the shadow to end and your dewy highlight to begin. Again, start with a soft base shade, building out to the corner of your eyes with a chocolate brown. Line your upper and lower lash lines with a dark-brown shadow in a cream or powder formula for a smudged, intentionally messy look.
Hot Pink
For most, pink is an intimidating shade when it comes to eyeshadow (opt for too light or too red of a shade and you can end up with sickly, tired-looking eyes). To be on the safe side, gravitate towards a rich, bright pink to avoid any unwanted hues. Bonus: You can even compliment the look with a matching accessory à la Mitchell.
Using a matte-pink shadow, work the product across your crease and lower lash line, opting for a bright and bold effect. Finish off the look with a light, glitter-infused shade at the center of your lid for a touch of dimension.