The Only Fall Eyeshadow Palettes You Need, According To A Celeb Makeup Artist
Joern Pollex/Getty Images Entertainment/Getty Images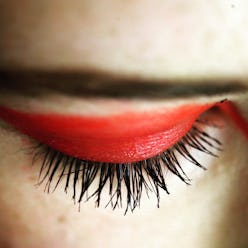 Pardon the clichés, but autumn is associated with loads of change. You swap your cold brew for a good ol' pumpkin spice latte, and your plain white tee for a crisp button down. The leaves are restyling from green to a satisfying palette of brown and orange, which, it so happens, are the same colors of eyeshadows you'll want for fall 2018, according to celebrity makeup artist Katie Jane Hughes.
"[I'm loving] reddish-browns, mustards, and greens," she tells The Zoe Report. "Along with brick reds and lavender, too."
If these shades sound familiar, it's because they're variations on the trends we've been seeing year 'round: this summer, you couldn't scroll down your timeline without seeing someone in bright yellow shadow... and in the Pinterest 2018 Global Beauty Report, there was a plethora of light purple tones.
With great pigment comes great responsibility: making your shadow last all day long is not easy. Some products have annoying fallout, which has the potential of ruining a perfectly good face... and who wants that? To seal your shadow, "use a primer like the new NARS ones that come in a mix of skin tones," Hughes instructs. "And press on the pigment before blending with a fluffy brush."
Check out some of Hughes' favorite fall palettes, along with the most stunning new releases, ahead.