21 Styling Products That'll Convince You To Wash Your Hair WAY Less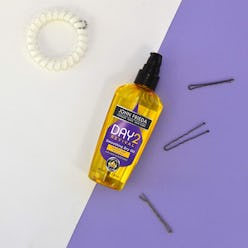 Dry shampoo has actually been around since the 1700s — you know, that whole powdered wig look was huge — but it experienced a major renaissance in the late aughts and shows no signs exiting the zeitgeist, well, ever. By giving you a way to skip a day (or two, or three) of washing, drying, and styling without looking like you did, the modern take on dry shampoo has revolutionized busy women's morning routines. But it really only solves one problem: greasy roots. What about frizz, flatness, and drooping curls? That's where the latest crop of genius products for day-two hair come in.
"Extending your wash days isn't a trend, it's a styling choice that women of all hair types have been doing for quite some time, especially women with naturally curly hair," Leah Stone, Senior Brand Manager of John Frieda Hair Care, tells The Zoe Report. To that end, the brand has just released the Day 2 Revival line, a range of products formulated with a blend of acai (to protect hair from damage with antioxidants) and avocado dry oil (to hydrate dry strands), and meant to be applied to dry hair to revive day two styles for all hair types and textures.
Besides the fact that skipping a day of shampoo can save time and keep hair healthier — washing your hair too often is notoriously drying, and dry strands are more susceptible to damage — Stone maintains there's another compelling reason to keep yesterday's look alive: It's the eco-friendly choice. "By cutting back on washing your hair, you can shorten your shower time which conservers up to 70 gallons of water per week," she says.
So how long can you really go between washes? It's different for everybody and every hair type. "Finer hair types will need to wash more often and thick, coarse hair types can often go longer between shampoos," Justine Marjan, a celebrity hairstylist who works with Ashley Graham and Khloé Kardashian, tells TZR. "We all produce different amounts of oil, use different products, and have different environmental factors that are constantly influencing when we need to wash our hair," she says. "As a general rule of thumb, when it feels dirty, wash it."
But you can extend the time between shampoos with a little strategic styling. "I love to start with a voluminous blowout on day one and use minimal products so that the hairstyle will last longer," Marjan says, noting that the more product build up that accumulates on your scalp, the more often you'll have to wash your hair. "To get the most out of your style, make sure you sleep on silk pillowcase so that you can avoid sleep crease and bedhead in the morning, and refresh your look with Tresemme Basic Care Dry Shampoo at the roots on day two," she advises.
Aside from dry shampoo, those with straight hair can reach for volumizing powder and shine sprays to add life to slept-in strands, while wavy hair types can benefit from a touch of dry oil at the ends and a spritz of sea salt spray — but refreshing thick curls and tight coils has historically been a little tougher to manage (and as a curly girl, I can attest to this). Thankfully, the market is catching up to the needs of the curly community.
"There are so many options now to refresh curls, including refreshers, rejuvenators, and dry shampoos," Michelle Breyer, the co-founder of NaturallyCurly.com, tells The Zoe Report. "They contain ingredients to freshen, including apple cider vinegar, charcoal, tea tree and lavender; as well as add moisture with sunflower oil, glycerin, and aloe vera." Products like John Frieda Day 2 Revival Curl Reset Spray and Alikay Naturals Wake Me Up Curl Refresher keep Type 3 and Type 4 spirals looking fresh (despite the fact that you haven't sudsed up in days).
Ahead, discover the best products to refresh your day two (or three, or four) hair, no matter what your texture.
Straight
Waves
Curls
Coils