5 International Blowouts To Try At Your Local Salon
JP Yim/Getty Images Entertainment/Getty Images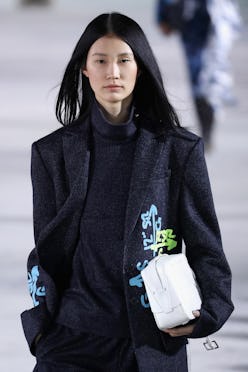 The steady globalization of the beauty industry means that today, there are plenty of hair product, style, and inspiration options for all textures, lengths, and hair colors. But sometimes, you just want a good, stick-straight blowout for the weekend or for a special event. However, not all treatments created equal, as any style that requires heat can be damaging... and even though there are so many different types of blowouts for every hair type, many of them aren't suitable across the board.
I, for one, jumped into many hair care disasters while attempting to wield a burning-hot straightener as a teen in the '00s. And some of my friends with naturally curly or coily hair note that certain stylists tend to use scalding-hot flatirons and blow dryers, which can eventually cause permanent damage to curl patterns.
It's comforting knowing that there are different types of blowouts to choose from when in search of smooth strands; from the traditional U.S. blowout (defined by bouncy waves with shine and volume), to the Brazilian blowout (which leaves hair frizz-free for months), to the Japanese straightening method (the most permanent option).
Whether you're just hoping to add a few more days to your wash cycle or reduce frizz for years to come, these five blowout techniques from around the world will have you covered.
United States
"The current trend for an American blow dry is mid to long in length and is shiny and soft with movement," Carolyn Aronson, the CEO and founder of It's a 10 Haircare, tells The Zoe Report. Typically, a blowout in a traditional U.S. salon is done with a blowdryer and a round brush. With these tools, the stylist will create smooth, loose waves with a little bit of bend and a whole lot of volume — think Victoria's Secret Angel. The goal? I woke up like this hair that looks effortless (even if you just spent two hours and $100 in a salon).
This kind of blowout usually lasts a couple days — or a week, depending on how much dry shampoo you're willing to pile on — and washes out as soon as hair gets wet. It's safe for all hair types and textures; just make sure your stylist uses a heat protectant spray pre-blowout to keep your hair healthy.
Dominican Republic
A Dominican blowout is usually a more low-key affair, involving a no-fuss routine of washing and blowdrying. And since the Dominican Republic is a racially diverse nation, this type of blowout can really cater to all hair types. "If you have thicker or very curly hair and want it straight, you may want to try this technique," Leo Izquierdo, Co-Founder of IGK Hair Care, tells The Zoe Report.
To get hair super-straight, the Dominican blowout "usually requires higher heat," Izquierdo says — and thanks to that high heat, the entire process of washing, brushing, and drying can take as little as an hour from start to finish. The result is sleek, high-shine strands that last as long as your wash cycle.
Another plus? This treatment is incredibly affordable at most authentic Dominican salons. Fashionista.com reported that a full Dominican blowout usually costs $25 — and some salons even offer $10 weekly specials.
Brazil
Is there any blowout more controversial than a Brazilian? Probably not. When this technique that's native to Brazil made its way stateside in the late aughts, it was all the rage. Women love the fact that the country's signature heat treatment (which involves applying a liquid keratin formula to the hair to smooth the cuticle, then sealing the treatment with heat tools) keeps hair frizz-free for up to four months. However, the some of the ingredients in the treatment have sparked controversy; namely, formaldehyde. "Everyone is concerned because of the formaldehyde in the formula, but there isn't any more in this than would be in your nail polish," Jennifer Matos of Rita Hazan Salon once told InStyle. "There is a very, very small amount."
Formaldehyde serves to work as a bonding agent that activates some of the treatments other ingredients — like acai berries and camu camu oil, which are traditional Brazilian ingredients — and leads to shiny, frizz-free hair that lasts for up to four months (yes, even through workouts and washes).
If you think it sounds similar to a typical keratin treatment (a heat-activated protein treatment that also straightens strands for months at a time), you're right; but the Brazilian blowout differs in a few major ways. After keratin, you can't wash your hair for three or four days afterwards in order to let the treatment set in. After a Brazilian blowout, you can wash-and-go immediately. This type of blowout also offers flexibility: the final look (which takes about two hours from top to bottom) is set by the stylist with heat tools, so you can opt for stick-straight hair, loose waves, or just a smoother take on your natural texture to eliminate frizz. To find an authentic Brazilian treatment in your area (typically priced around $350), you can use the "Salon Search" tool on brazilianblowout.com.
Japan
After permanently straight strands? Consider Japanese hair straightening. This intense technique relies on hours of in-salon chemical processing and straightening, and can smooth out even the thickest curls (for a cool $400 - $800).
The results of Japanese straightening are permanent — meaning, your new impossibly glossy and pin-straight hair will last until it grows out, according to Live About. If you have tight coils, this may not be the best option, since the whole curly-roots-straight-ends look can be hard to maintain.
If the concept permanently straight hair sounds too good to be true… that's because it kind of is. The Japanese blowout carries the highest level of risk to hair — some women even experience hair loss — due to the chemical processing and extreme heat required to get the job done. If your hair is naturally thin, color-treated, dry, or textured, you'll likely be better off with a Brazilian blowout.
France
In France, the blowout technique is much the same as that in the United States; the difference is all in the styling. "The French blowout is more natural hair — it's very sexy," Garren, a celebrity hairstylist and the co-founder of R+Co, tells The Zoe Report. French women prefer to perfect their natural texture with a round brush and blow-dryer, rather than change their look completely. "They wouldn't wave with a curling iron," Garren says. "They like a natural wave, bobbed right to the jaw."
You can ask your go-to stylist to give you a French-inspired blowout by skipping the uniform waves in favor of a slight bend. Opt for a hit of volume at the root and add a texturizing spray to give off that effortless bedhead vibe (a la Jane Birkin), and c'est fini.