Mila Kunis Just Debuted A Seriously Shocking New 'Do
Emma McIntyre/Getty Images Entertainment/Getty Images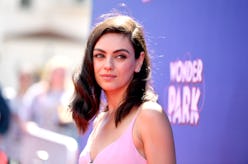 Mila Kunis has had quite the career in Hollywood. After immigrating from Ukraine as a child, she made her foray into entertainment on That '70s Show at just 14 years old. Over the years, you've seen her take on a number of roles, from Black Swan to Friends With Benefits, and very rarely has the 36-year-old strayed from her natural brunette roots. Well, it looks like the mother-of-two is game for a change this fall, because Mila Kunis' blonde hair was on full display in Los Angeles on Tues.
Stepping out in a striped t-shirt and jeans, the Bad Moms star stayed incognito in a blue baseball cap whilst showing support for the L.A. Dodgers. Despite the low-key hat partially shielding Kunis' fresh update, the California sun shone bright on her clearly platinum blonde bun. As if the brunette bombshell's new look wasn't enough of a shock, bright turquoise tips peaked out from beneath her messy updo.
Is Kunis preparing for a role? Is she just feeling the onset of #BlondeGirlFall? The reason behind this drastic hair transformation is unclear, but Kunis certainly isn't the first Hollywood heavy-hitter to dive into a new look for the season ahead.
Fellow sitcom queen, Courteney Cox, debuted choppy fringe in London last week, and supermodels Bella Hadid and Kendall Jenner recently went blonde. It's safe to say now is the time to make that daring change you've been daydreaming about, and contrary to popular belief, fall could very much be prime time for a brighter hair moment.
In terms of bleaching your hair, upkeep can be one of the most stressful parts of the whole ordeal. It's all fine and dandy when you step out of the salon with a Daenerys-inspired icy-blond hue, but it's a major pain once brassy tones and damage start to creep in. Luckily, the market is full of special formulas to keep your color in tact for as long as possible, so shop The Zoe Report's selection of must-have products for strong, bold blonde hair, ahead.
Shop The Look