19 Beauty Gifts Under $100 That TZR Editors Have Already Tried (& Love)
Glossier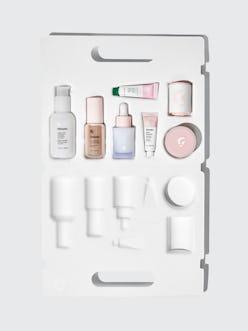 Beauty is just as exciting as it is overwhelming. Especially when you're trying to shop for someone else. Will that lipgloss last all day? Is that moisturizer good for oily skin? Unless you pick out something you've tried, it's hard to really know. You could spend a chunk of time scrolling through product reviews, or you could turn to those who are surrounded by products everyday. As beauty editors, we test out the newest items to hit shelves before everyone else, which gives us a good understanding on which beauty gifts under $100 you should consider gifting this season.
At this price range you'll find a variety of luxe products — from a Chanel hand lotion our Senior Fashion Editor is giving the people in her life who are constantly on the go, to Oribe hand soap our Site Director knows will make its recipient fall head over heels for at first whiff. Some you've probably heard about and been eager to try, like Glossier's skincare line. And others might have never before been on your radar, like the Clarifying Face Oil from Uma.
If you'd rather spend your holidays walking in a winter wonderland instead of wondering what to get your inner circle, ahead, see the gifts that our editors have already tried — and love.