The Healthy Go-To Meal Jessica Biel Makes When She's Too Tired To Cook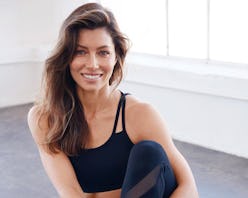 These days, Jessica Biel's schedule is pretty crazy. Besides running her own production company, Iron Ocean Films, she's collab-ing with Gaiam for Kohl's, curating a collection of yoga clothes that are functional for in and outside of the studio. But mealtime is still big in her house, so quick, healthy meals are well-used. "I'm a big fan of easy-make, easy-bake vegan purees, which I think can be a nice, light supper option," she says.
Some of her go-to veggies to puree are butternut squash and broccoli and she swears they're a cinch to whip up. "You cook the vegetables, roasting them in the oven, adding salt, pepper, and your favorite spices," she explains. "Then, you put it in the blender and boom—you've made yourself a really light, really healthy, gorgeous soup that anybody can enjoy pretty easily."
Besides being a time-saver, blending your veggies makes it easier for the body to digest—which is key if you're scrambling for a late night meal. While a salad might cause your stomach to keep you awake by working to break everything down after you snuggle in between the sheets, a puree is much gentler on the digestive system because it's already in liquid form. A healthy meal that helps you satisfy your hanger and hit the hay in less time than it takes to watch an episode of Queer Eye? A lazy girl's dream come true.
Check out Jessica Biel's easy weeknight dinner recipe.
Pureed Veggies Recipe
Ingredients: Preferred veggie, such as sweet potatoes, broccoli, or squash Salt to taste Ground pepper to taste
1. Roast preferred veggies in the oven at 450°F for 10 to 15 minutes, seasoning with salt and pepper.
2. Add to blender or food processor. Blend until a soupy liquid.
More From Well + Good:
Get The Most Out Of Your Workout By Avoiding These Common Recovery Mistakes
How To Know If A Friend Breakup Is Forever, Or Could Be Rekindled
These Are The Best Days To Travel On Memorial Day Weekend For Minimal Stress