This Is The Perfect NYE Hair Accessory To Replace That "2020" Tiara With This Year
Edward Berthelot / Contributor / Getty Images Europe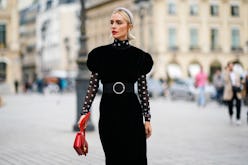 Have you lost count of how many cheap, plastic New Year's Eve tiaras you've picked up from the drugstore in your lifetime? I certainly have, though I know the number's well above what I'd like it to be. It's understandable — it's a tempting purchase that's easy to give into when you're running in to grab refreshments before a party and you discover the *perfect* finishing touch to your sparkly look. But given that you know you'll probably lose it at a party — or just throw it away because it's marked with the year and you'll only be able to wear it once — it might be time to invest in something that's not quite so disposable. A NYE hair accessory that doesn't involve a "2020" headband or tiara, perhaps.
Lucky for you, 2019 made those pretty easy to find. Between the massive padded headbands that became veritable street-style stars and the wordy barrettes that took over Instagram, hair accessories were one of the defining trends of the year. And while they've transcended occasions — they've been successfully paired with everything from t-shirts to ballgowns — there's arguably no better time to cover your hair in sparkly, over-the-top adornments than New Year's Eve.
But first, you just have to decide on your desired vibe. And speaking of vibes, there's a hair pin for you if you're looking to set the mood for the evening via your accessories, thanks to the Kitsch x Justine Marjan Rhinestone VIBES Bobby Pin, which is an affordable $29.90 at Sephora.
If you're looking for something more fashion-forward (and visible at all angles), Zara has an equally affordable $29.90 jeweled, padded headband that's basically the definition of glam. However, you could go all out and splurge on Loewe's feathered headband for $1,300 instead — because honestly, when is there a more appropriate time to wear such a luxe, statement-making piece than New Year's Eve?
Ditch the "2020" tiara for good this year, and keep scrolling for these and more hair accessories that'll provide the perfect finishing touch to your outfit — and last you until 2021, too.