Cycling Instructors Say These Are The Best Leggings To Wear To Your Next Spin Class
Undrey/Shutterstock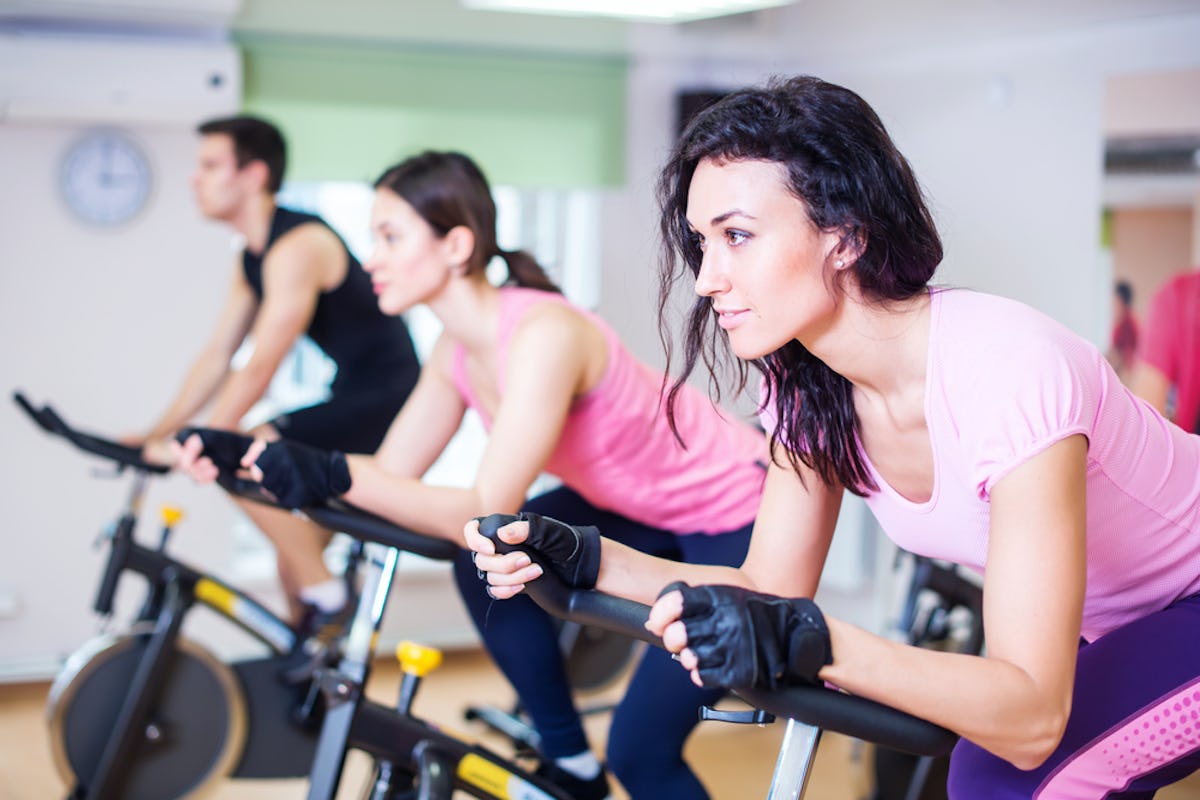 Leggings — you've most likely acquired quite a collection over the years from short and long styles to pairs you save for the hottest of days and to others reserved for coldest. While you may have established your favorites based on color and style for spinning, when it comes to selecting a pair for performance, you might be less sure about the best leggings for spin class. So who do you turn to? Well, a spin instructor, of course. These women are on the bikes day in and day out, and know the ins and outs of what makes the ideal legging when it comes to getting your sweat on while you cycle.
Whether you're a dedicated spinner or looking to take a class as part of your new-year fitness routine, you'll want to take note of what to look out for in leggings when you're headed to the spin studio. The fit and fabric both play an important role in how good your body feels while you ride.
First, look out for leggings that have that second skin feel. Emma Lovewell, a spinning instructor at Peloton, recommends Under Armour Anklette Women's Capris, $50. "These leggings are compression tights and also super lightweight. The material wicks sweat and drys pretty quickly," Lovewell tells TZR in an email.
Studios can get pretty steamy and will only get warmer as you start to really pedal, so finding a legging that'll fight sweat is key, especially when it comes to preventing unwanted rubbing. Lovewell wears this Beyond Yoga x Peloton high-waisted style, telling TZR, "They have an inset gusset and anti-chafe seams for serious comfort — very necessary when sitting on a bicycle seat for an hour."
Finding the right level of tightness is also important for staying comfortable in class, which is why Flywheel instructor Emily Fayette rides in lululemon's Tight Stuff Tight II. "If you love pants that have good compression without cutting off your circulation — these are the pants for you," says Fayette. She also recommends these playful leggings from her line with Bold Body Apparel. "The material is extremely soft, which allows me to move around the bike smoothly without my body feeling constricted," she explains.
Instructor Christine Abramo of Cyc Fitness also looks for leggings that are sweat-proof and provide the right amount of compression during her classes. She recommends lululemon's All The Right Places leggings, telling TZR that they have "just the right amount of compression." She also turns to Adidas' Believe This leggings for their sweat-proof nature and ability to hold their shape through her classes. And if you hate having to adjust your leggings during class, you can't go wrong with these leggings she recommends from the brand The Upside. "These are high-waisted and perfect for being in and out of the saddle. Never need to pull up mid-jumps," she explains.
While it's of course important to wear sweat-wicking leggings for any cardio workouts, it's not so obvious why compression fabric is good for spin class specifically. But according to Lovewell, it can actually help your workout — both during and after. "Compression tights are great for spinning because they hold your muscles in tighter and increase blood flow, which is thought to improve your performance as well as recover more quickly," she says. So finding a pair that combines these elements is key.
Continue on to shop these styles, along with more compression tights with moisture-wicking fabric that you'll want to slip on before you slide into your spin shoes.
We only include products that have been independently selected by The Zoe Report's editorial team. However, we may receive a portion of sales if you purchase a product through a link in this article.
Lovewell's Picks
Fayette's Picks
Abramo's Picks
TZR's Picks