This Velvet Bedding Set From H&M Is The Fall Decor Item Your Home Needs Now
@hmhome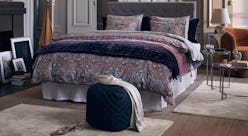 When considering luxurious fabrics for your home, it's easy to assume that if you're sticking to a strict budget, they're just not in the cards. But thankfully that doesn't have to be the case. As a matter of fact, one of the fall's go-to textures might be more accessible than you think. With a little bit of smart shopping, you can score plenty of velvet decor pieces for less than your probably spent on your last trip to Trader Joe's.
Sometimes all it takes is a bit of richness to make the whole place feel more expensive — and no one has to know you didn't splurge. Thanks to some of your favorite home decor retailers (including Target, World Market, and IKEA to name a few) you can pick up trend-driven and seasonal pieces for a steal. And in terms of the latter, velvet is one of the most quintessential fabrics of fall, alongside faux fur and cashmere.
If you do have the budget for big ticket items, an overstuffed velvet chair or sofa always makes a dramatic statement — but if you're trying to save, a smaller decorative item can still do the trick. For example, easily upgrade your existing seating with a throw pillow or two in the fabric. And in your bedroom, a bedding set or even some simple shams can instantly transform your space into the coziest fall retreat.
To use velvet in a slightly less expected way, consider adding the textile to your table setting, by way of a runner or even a bit of trim on a napkin. You can even use the fabric with your lighting to enhance a mood — it's as simple as swapping out your drapes or lamp shade in some case.
Wherever you choose to introduce a little of the sumptuous texture into your home, you can easily find a suitable and stylish piece for less than $100. Can't believe it? See ahead for 10 affordable options that will transform your space for fall in an instant.
You probably hadn't thought of using velvet in your lighting, but it's actually a cheap and easy way to upgrade an existing lamp while making the mood a whole lot cozier.
Get a ton of bang for your buck with these floor-length velvet drapes. Because they take up a significant amount of space, they'll be able to add a lot of drama to any room with minimal effort on your part. And they'll look so expensive.
Can splurge for a total bed overhaul? Just pick up a set of velvet shams for a rich look that costs you less than $50.
Ottomans are perfect for extra seating, and this velvet style from Overstock will make your space feel so much more luxe.
Neon green isn't just a huge fashion trend for your wardrobe — you can try it with your home decor as well. Case in point, this $20 velvet throw blanket.
A touch of embellishment makes this throw pillow feel even fancier.
Toss this jewel-toned velvet quilt on your bed to take it into the season in one simple step.
Your fall tablescape can be exponentially more stunning with the addition of a simple velvet runner.
For just $80, this set will totally cover your bed in the lush fabric.
Try different size and shape pillows as well as different fabrics for a quick upgrade. This forest green bolster feels perfect for the season.