10 Valentine's Day Flower Gifts To Send That Aren't Your Typical Rose Bouquet
Urban Stems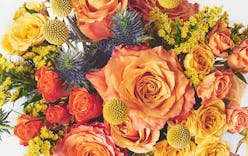 When you imagine the ideal Valentine's Day gift, it likely includes a lovely bouquet of flowers (and a big ol' box of chocolates, of course). Tradition dictates that a bunch of red roses are the requisite arrangement for the romantic holiday, but let's face it — choosing something conventional isn't always going to take a Valentine's breath away. That's why this year, it's all about unique Valentine's Day flower gifts that feel way more thoughtful than the typical.
Every relationship is different, and should be treated as such. So why has it become customary that every couple stick to a basic bouquet of red roses to signify their love? It makes much more sense to send your loved ones an arrangement that shows you acknowledge (and adore) everything that makes them special. After all, Valentine's Day is all about getting a little personal. So, selecting an assortment of stems that feels extra special to them — and proves you pick up on their preferences — seems only fitting.
When shopping for a Valentine with a bold personality, pick a bouquet stands out as much as they do. Choose an oversized arrangement full of vibrant, non-traditional colors, like the $65 Firecracker from Urban Stems or the Big Love Burlap Wrapped Bouquet, $89, from Farmgirl Flowers. Both still contain a spray of roses to remain inherently romantic, but feel way more thoughtful thanks to the variety of other blooms. Urban Stems also offers up a variety of vase options for the arrangement, allowing an extra level of personalization.
Gifting your girlfriends this Valentine's Day? Romantic roses don't exactly fit the bill — but that doesn't mean you have to move away from a floral gift. The Heart of Gold arrangement, $96, holds several gorgeous sunflowers and a mixture of other vibrant stems, and feels fitting for your BFF. Or, if you've got a lot of plant ladies in your life, send a sweet heart-shaped plant from The Sill, $26, in a pot of their favorite color. Plus, The Sill allows you to add a special "Message Pop" for $4, so you can include a personal note.
At the end of the day, if roses are really their thing, go all out with an arrangement that'll really wow. Venus et Fleur makes specially treated roses that'll look beautiful for at least a year, so they'll enjoy the gift far beyond V-day. This long-term box of blooms starts at $399, and allows for lots of personalization, from the color of the roses to a custom message inclosed. Considering a bouquet typically lasts just a week or two, this one really steps it up.
Whether you're in search of floral inspiration for your Galentine's Day get-together, or hoping to drop a hint to your sweetheart, these fresh flowers are the way to go. Browse below for some of the best unconventional bouquets from around the web. (By the way, it's totally chill to be your own Valentine, so snag yourself a pretty bunch, too.)