Personalized Valentine's Day Gifts Don't Have To Be Cheesy, & These 9 Prove It
Courtesy of Zahava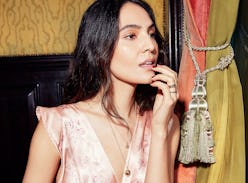 It may seem like it's still far away, but Valentine's Day will be here before you know it. And while it's easy to opt for the classic heart-shaped box of chocolates and a cheesy card, there are much chicer ways to profess profound feelings for your special someone. But just because you want to find something stylish instead of kitschy, doesn't mean you can't gift something that still feels special. Find the perfect middle ground by opting for a personalized Valentine's Day gift that's as thoughtful as it is on-trend — it's a surefire way to win your valentine's heart.
Gifting your partner on Valentine's Day can be tough. It's a holiday about love, so you certainly want to find something that expresses the depth of your emotions — but you still have to tread lightly, because it's all too easy to trend cheesy. So how do you find something that shows you care, but they'll actually enjoy? One solution is to opt for gifts that allow for customization, so you can add a thoughtful touch to something you know they'll love.
Jewelry is a quintessential gift to give and receive come Valentine's Day, so much so that it can seem obvious and unoriginal. But if your loved one still likes receiving a luxe bauble on the lovey-dovey holiday, you can find a way to make it feel personal.
The Golden Atlas necklace from zahava, $680, allows for a diamond to be placed anywhere on the map that's special to you — pick the city you first met, or perhaps a travel destination you both loved. Or gift a gorgeous rose gold cuff from The Last Line, which can be customized with up to five diamond initials or symbols.
Bespoke leather goods are another luxe gifting option, and choosing pieces that can be customized makes them totally romantic. A bespoke leather journal, like this $479 Anya Hindmarch pick, is perfect for a creative soul, while a travel-ready tech case is ideal for globetrotters and on-the-go entrepreneurs alike.
Other customizable options to consider include beauty products or chic candles that allow a space for your sweetheart's name (like this $75 Le Labo candle), or thoughtful pieces that play into their favorite hobby (like mixing up craft cocktails). They'll love the fact that you gifted them something luxe that they can use every day, but they'll really appreciate the time you took to make it more romantic.
Keep scrolling to shop the personalized gifts that'll please your partner this Valentine's Day — and don't wait too long to order so you can ensure it arrives before Cupid does.