This $60 Side Table Proves Mid-Century Modern Design Doesn't Have To Be Expensive
Photographee.eu/Shutterstock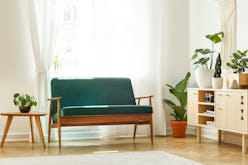 Despite the fact that it's over 85 years old, the mid-century modern style continues to be one that's highly regarded in the design community. Not only do a ton of well-respected interior decorators and stylists still love to include high-end pieces from — or inspired by — this era, but major manufacturers have also gotten in on the action, allowing regular enthusiasts to find similar styles at prices that won't blow your budgets. And that includes a ton of mid-century modern side tables that will cost you less than you probably paid for your last grocery haul at Whole Foods.
If you've attempted to go the actual vintage route when it comes to finding tables — or any other mid-century pieces for that matter — that will perfectly suit your space, you may have noticed they can cost a pretty penny. There are ways to get around that if you are looking for something authentic, like frequenting flea markets and estate sales or trying luck with an online bidding war. But there's an easier way if you're open to something contemporary that still has the same feel.
The design style was first popularized (as the name indicates) in the mid 20th century — specifically from the mid-1930s to the mid-1960s — and some of the most revered designers from the time period include Charles and Ray Eames, Eero Saarinen, and Le Corbusier. So when you are shopping for more affordable furniture pieces by modern makers, you can always start by getting inspiration from their work and make note of significant design details. For tables in particular, you might want to be on the lookout for clean lines with some organic shapes, hairpin legs, and metallic accents.
Knowing what to look for can greatly help narrow down your search, so you can zero in on affordable retailers like West Elm (which is well-known for its mid-century inspired designs), Target, and IKEA to be sure you're only spending as much as your budget allows. And once you've picked out the perfect one, make it a standout in your space with some expert-approved tips for styling them with vintage art books, colorful accessories, and florals.
Ready to shop? To make things easy, ahead are 10 mid-century modern tables — in a variety of stapes, each with their own unique details — to help you get the look in your own home without overspending. In fact, they're all under $150.