This Designer-Approved Tip Will Add Instant Drama To Your Coffee Table
Pablo Enriquez for Night Palm Studio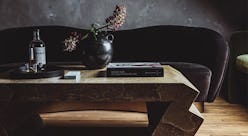 It's easy to get caught up in some of the major design components of your home when you're doing a little refresh or renovation — for example, finding functional and stylish furniture pieces or choosing the color of your walls. And while those are certainly significant in creating an overall aesthetic, it's also important to dig into the details. Often, the smallest things end up being the ones that make your home feel more personalized or help flesh out a mood, like how you dress up your surfaces. And with a few designer-approved coffee table decor ideas, you can easily transform even the most basic piece of furniture into the focal point of a room.
Styling your coffee table may not even be something that's occurred to you just yet — as for many people it quickly becomes a catch-all for remotes, used glassware, and other odds and ends. But with a little extra attention to detail, you can actually create a lot of drama and impact here. "Styling coffee tables is one of my favorite ways to inject some personality into a room," says Tiffany Howell, interior designer and stylist at Night Palm Studio in Los Angeles "It's a perfect place to layer and create some dimension into your space."
Howell's signature moody, romantic vibes are punctuated by her design details, whether it be a perfectly curated stack of vintage art books or the accessories that carry out her desired color scheme. To learn the tricks she consistently turns to for transforming a coffee table into an eye-catching spot for objet d'art, a bit of entertainment, and more, read ahead — then try them for yourself.
Make It A Mini Gallery
Your walls aren't the only place to show off your art collection. According to Howell, your coffee table actually makes a perfect vehicle for quirky cool finds that can be just as interesting. "Use the surface as a rotating art gallery with objects you have collected," she suggests. "I like to use my favorite art books or rare sculptural pieces that mean something to me emotionally. Use unexpected things like a vintage necklace, antique bust, or a special ceramic piece for a statement."
Use (Un)Common Scents
Don't skip out on scents to create a full sensory experience in any room, and the surface of your coffee table is the perfect place to play with them. "You can create a whole mood with exotic smells," she says. "Find candles that resonate with you and look gorgeous. It's also fun to burn and display incense in beautiful bowls or ceramic burners." Fresh fragrant flowers are also an option, if you want to add a bit of plant life.
Engage Your Guests
Your living room is often a gathering place, and your coffee table can immediately draw everyone in if you include a few interactive items that will help entertain. "I like to use vintage card games, dominos, or maybe some gorgeous pens and a poetry journal to encourage people to engage in the space," says Howell. "For my clients that love to entertain, sometimes I make them a little mini bar on the table with a gorgeous brass tray and vintage decanters."
Play With Color
"A coffee table is also a great place to inject color in your space even if the room is slightly more subdued," explains Howell. "I often like to color block a few items on a coffee table for instant drama. Choose three things all in the same color way to make a statement and when you get bored change it out." Try this out with some colorful coasters.
Create Some Dimension
Since you're working with a flat surface, it's important to decorate your tabletop with dimension in mind if you want to give it a bit more drama. "Add a really tall glass vase with low natural woven boxes," says Howell. "Or use an antique dish for pretty looking match books next to a modern art book. I like to create a nice juxtaposition and layer up with different textures to give the table the perfect balance."