This Target Desk Looks Way More Expensive Than It Is
Photographee.eu/Shutterstock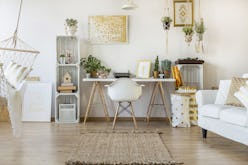 The new year is in full swing and, at this point, you're most likely either knee-deep in your resolutions or tapped out (no judgement either way). If you're one who prefers to sustain from lofty new year's goals, you can still enjoy a fresh, organized start by upgrading your workspace — or creating one. A great way to start is by investing in a desk that'll inspire all the creative activity or, at the very least, store your stuff. Luckily, snagging this key home piece doesn't have to take its toll on your budget. Stunning desks under $100 are not only out there, but also available for a variety of aesthetic preferences.
Now, if the idea of a home desk makes you think of clunky, large and in charge wooden pieces that take up half the room, you can rest easy. These days, there are a ton of affordable options in all shapes and sizes that will fit nicely in even the smallest of living space. For smaller studio apartments or if you're simply short on space, try investing in a corner desk that won't take up more than a foot or two. And if you truly have no floor space to work with, go the floating desk route and snatch a chic piece that you can mount to any wall anywhere in your home. Heck, some of these more compact desks don't even require chairs!
And, if storage is of utmost importance, you have a plethora of options at your fingertips, as well. Many modern writing desks incorporate shelves or cabinets to keep all your important documents and materials tucked away, organized, and out of sight. You can even utilize the shelving for decorating purposes and use them to house candles, frames, and any other stylish knickknacks you want on display in your home. That said, some desks get creative with their storage space, and feature things like built-in pen holders, tablet stands, and metal panels for magnets and Post-Its.
If you're concerned about finding a budget-friendly desk that also works with your specific decor style, don't worry about too much — you're covered. All manner of aesthetics are catered to here. If you're one for more of a minimalist vibe, try a simple, no-frills, mid-century modern table that consists of a sleek flat surface and hairpin legs. If you gravitate toward vintage pieces, go with a '70s-inspired marble-top desk with gold accents. And if you like a country-chic number, go with a classic wood desk with brass knobs and trimmings.
As you can see, getting your workspace in order has never been easier. You'd be surprised how one hero piece like a desk can be the perfect catalyst for organizing your life and living space. See it as the organizational must-have in your home. If you're intrigued about the buffet of affordable desk options out there, you're in luck. Ahead, you'll find 10 stunning options that cater to any living space, no matter your aesthetic preference. Enjoy.