Minimalists Will Love These Office Organization Ideas In IKEA's New Arrivals
Ikea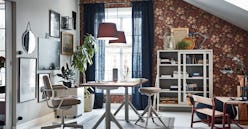 What was life like before IKEA? Way less organized, that's for sure. The Swedish-founded company has been introducing affordable Scandinavian style to cluttered homes all over America since opening its doors. Though IKEA has always been there to outfit any Pinterest-inspired office organization ideas, its recently released line, IDÅSEN, is the perfect starting point if your workspace is in dire need of an update.
Out of all the products launched in October, one of the standout lines is the new storage and desk series. The IDÅSEN sliding door cabinet (for $399), one of many of the new products, will definitely be one of those pieces that'll be in every home. Apartment dwellers can utilize its space-saving sliding glass doors and homeowners with space to spare can line multiple in a row without breaking the bank. The see-through cabinet will encourage you to keep the interior neat and thoughtfully arrange your storage.
The series nods to the industrial decor trend that's been everywhere lately, but updates it by livening up the color scheme with dark golds, warm beiges, and rich wood tones. This mustard-colored IDÅSEN drawer unit, which has rounded corners and a minimal design, is a steal at $129. And if an even more cool-toned industrial look is what you're after, pieces from the series like the IDÅSEN steel desk can be snagged in the classic dark metal and wood combo for $229.
If you've been searching the web for an Eames-esque lounge chair lately, you're in luck. Its newly released ALEFJÄLL swivel chair has all the mid-century modern tufted leather vibes at a $299.99 price tag. The Grann beige colorway is the perfect minimal addition to any simply space, with softly colored leather accenting the pale steel chair frame.
While you may still need to phone a friend to help build the furniture with you, here are six office organization ideas from IKEA's newest launches so you can get started creating a minimal office space that's free of clutter.