10 "Clean" Lipsticks That Deliver So Much Pigment
Rosdiana Ciaravolo/Getty Images Entertainment/Getty Images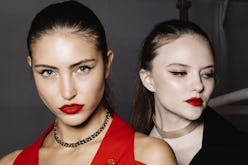 A little lipstick trivia for you: The average lipstick lover will consume almost four pounds of the stuff in their lifetime. It makes sense; all that smacking, smudging, and smearing eventually leads to eating. A 2010 study from the Food & Drug Administration found undisclosed traces of lead in a full 100 percent of lipsticks tested. (Yup, all 400 of them.) Medical experts agree there is no safe level of lead exposure, as it's a neurotoxin linked to cognitive and behavioral problems as well as issues with hormones and fertility. So you might want to switch to one of the clean lipstick brands ahead. (I mean, your call — but the FDA hasn't updated cosmetic safety regulations since 1938.)
Lest I lay all the blame on lead, that's not the only questionable ingredient in traditional lipstick formulas. Most rely on petrochemicals including paraffin wax, mineral oil, and PEGs — AKA, materials derived from petroleum or natural gas, a la diesel fuel — for shine, feel, and long-lasting wear. If those don't sound appetizing enough to lick off your lips, I feel you. Which is why I've spent the past couple years vetting the best clean lip products the industry has to offer; specifically, the best red lip products, because who doesn't love a good red?
There are still so many left to try (I've heard great things about Henné Organics and Alima Pure), but the 10 lipsticks, lip tints, and lip glosses ahead are my new non-toxic go-tos. They have all of the shine, feel, and long-lasting wear of a typical formula, and — bonus! — none of the neurotoxins.
RMS Beauty Wild With Desire Lipstick In Rebound
The phrase "skincare-meets-makeup" gets thrown around a lot, but in the case of RMS Beauty Wild With Desire lipstick, it's actually true. The formula is infused with the brand's organic Beauty Oil (which, side note, you should definitely put on your face). The color payoff is huge, the finish is just shiny enough, and the staying power is real.
Kjaeir Weis Lipstick In Sucré
This shade makes my lips look like I just finished a very big glass of pinot noir, minus the purple tongue. But what's better than lipstick? (Or wine, for that matter?) The metal tube is refillable, and therefore, sustainable. And each refills saves me $20.
Kosas Weightless Lip Color In Phoenix
One of my forever favorites is Kosas Weightless Lip Color in Phoenix which, to be honest, I only started using after hearing Gwyneth Paltrow say it was her favorite lipstick on the Goop podcast. It's creamy but doesn't bleed past my lip line, ever. It does fade, but at least it fades evenly — after a few hours of wear, it's more of a lip stain than a lipstick.
OGEE Tinted Sculpted Lip Oil In Zinnia
Jojoba oil is my favorite beauty ingredient of all time (I once wrote an ode to the wonder that is jojoba). It's also the star ingredient in OGEE's Tinted Sculpted Lip Oil, which is probably why I love this literal lip stick — essentially, a crayon for adults — so much. The color is sheer, but what it lacks in pigment, it makes up for in moisture-boosting power.
Kari Gran Lip Whip In Cora Gold
This glossy balm from Kari Gran is my go-to for jeans-and-a-t-shirt days. I'm all about a subtle wash of color, especially when it comes from natural cinnamon (and yes, it tastes delish, too).
RMS Beauty Lip2Cheek In Beloved
RMS Beauty's Lip2Cheek is with me whenever I travel, for two reasons: One, it cuts down on clutter in my makeup bag, since it functions as a lip stain and cream blush. Two, it's the longest-lasting cream formula in existence.
Ilia Tinted Lip Conditioner In Berry
If a lipstick and a lip balm had a baby, it would be ILIA's Tinted Lip Conditioner — the perfect blend of creamy color, botanical oils, and hydration-locking beeswax.
Akar Pure Lip Restoration In Ruby
Most days, I wear approximately zero makeup, but I still like to put a little something on my lips. This pot from Akar has everything I need: skincare-grade Omega-9 fatty acids care of castor oil, plus an all-natural, ruby red tint.
Kosas Kosasport LipFuel Hyaluronic Lip Balm In Pulse
My New Year's resolution: to work out more. (As a writer, I sit all day, every day, and my glutes are very upset with me.) When I do, I'll glide on Kosas' Kosasport LipFuel Hyaluronic Lip Balm, a plant-based balm meant "to transport you to a sporty state of mind." I can't wait to find out what that means.
Rituel de Fille Forbidden Lipstick In Fortune Teller
Non-toxic brand Rituel de Fille makes maybe the best natural concealer of all time (you need it), and its lipstick is next on my must-try list. I'm pretty sure the shade Fortune Teller was made for me.