Veronica Beard's Co-Founders Have The Best Travel Hacks
Courtesy of Veronica Beard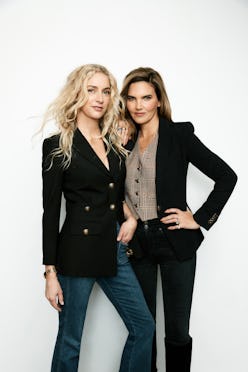 Carry-on luggage or checked bag? Window or aisle seat? Tropical sandy beaches or majestic mountain ranges? You can learn a lot about a person through their travel preferences and habits. TZR's series Get Out Of Town gleans tips and habits from tastemakers to better understand what makes a first-class getaway.
They share a first name, a last name, and a successful fashion brand. Yes, we are referring to the unicorn founders of Veronica Beard. For 13 years, the sisters-in-law (who married brothers) and business partners have hustled side-by-side, growing their label from a blazer-led collection of everyday essentials to a full-blown style empire. And with a robust store presence across the US — and recent expansion into the UK — it's safe to say this dynamic duo spends a fair amount of time traveling together.
"We travel for business multiple times a month," says Veronica Swanson Beard to TZR. "And we travel [together with our] families hardly ever. I would say once a year maybe." (This is understandable considering the women have a total of eight children between them.) After years of plane rides and hotel stays together, the women explain that they've established a nice travel rhythm.
"Ronnie [Swanson Beard] knows I have travel anxiety," says Veronica Miele Beard, who says she's always one to arrive to a flight well in advance, while her counterpart "likes to live on the edge," typically speeding through the gate minutes before it closes. "We're both respectful of each other's style, so it's like 'I'll meet you at the gate, OK?' [..] She hopes the door hits her in the butt when she's running on the plane. I'm in my seat with my luggage above me ready to go; the first person on the flight."
Ahead, the entrepreneurs spill their secrets for smooth travel, from their carry-on essentials to the slightly controversial hack for traveling with rowdy kiddos.
Carry-on or check-in?
Veronica Swanson Beard: I would describe my packing style as an over-packer. If we have to have a carry-on, which I hate to do, I lay out all my outfits, I take pictures of them. I try and have one or two pairs of shoes, which is really hard because I like to have 12, and the jewelry. And I really go for a color palette if I'm traveling for work, and it has to be a tight packing list. But if I'm going somewhere for a long time, it could be a disaster. There could be four suitcases and multiple personalities on that trip and it could go off the rails.
Veronica Miele Beard: I'm the minimalist packer no matter what. There's only one trip where I packed check-in luggage. I like to forecast what's going to happen a month before, and I have it all ready to go down to the right amount of underwear and bras, because if I get stuck somewhere without essential things like socks, I'll freak out.
What are three items we will always find in your luggage?
Swanson Beard: Well, definitely my cosmetics. For sure, my eye mask. I'm a pajama person, so I need to have my good silky pajamas. And I need a million other things.
Miele Beard: I have so much anxiety. I have a little capsule of makeup in my handbag in case my luggage gets lost. That's how badly I want to keep my makeup with me. I would hate to be stuck somewhere. I could be stuck somewhere without clothes, but if I don't have a face of makeup, I will die. So I don't need the brush — I can deal with hair. I can just throw it back, but I have to have mascara and some eyeliner and some concealer on me at all times. Lipstick, gotta have it.
What's your in-flight routine?
Swanson Beard: I look at flying time as amazing work time, so I am a psycho about getting as much as I can done on a flight. She [Miele Beard] is over there passed out. And I am like, how many tabs can I have open working on whatever I'm working on?
Miele Beard: I'm [usually] on my phone. I love the wifi. I have to admit I just have to be in contact with people. But also, I have a travel hack [when flying with] kids — and this is maybe a form of abuse. I have five kids and I've got these two boys who, if they sit next to each other, sometimes can get a little bit loud or start fighting or whatever. So I threaten that whoever acts up is going to sit next to a stranger. On a flight, like a 12-hour or a nine- hour one, I've done it where you put the most rambunctious kid next to a stranger. They don't say a word. Then you threaten them for the rest of their lives. Who's going next to the stranger? And so everybody is well-behaved, and it's quiet.
What are non-negotiables when it comes to hotel stays?
Swanson Beard: I'm a hotel snob, for sure. I really like my hotel to be nice. And a pillow is really important to me. The bathroom's important to me. The downstairs restaurants, the location — I just feel like if you're going somewhere [that's not your home] you want to be in a hotel that's really comfortable and has all the accoutrements that are really nice.
Miele Beard: Yeah, I just want it to be clean. I do a lot of traveling with [my sons'] basketball team, and we stay in a lot of Marriott type places. And I've got to say, there's definitely a pecking order with those, and I can't deal if it's not clean. It doesn't have to have everything. Location is the most important thing to me because if you're out yonder, it's annoying.
What trip(s) are you planning right now?
Swanson Beard: For work, we're going to London in a few weeks, and that will be a big brand awareness trip, a lot around our London store and just building on that market, which has been so exciting. We love doing that. We were there last in October. And then, for summer, I'm in Nantucket and then going to Napa Valley with my family. I'm staying pretty local, which will be nice.
Miele Beard: [My family is] doing Germany this year. I love Europe. I am obsessed. And then I'm thinking about Croatia, Sicily, and ending up in Capri. I mean, I've been to Italy so many times, but I've never done Sicily, and I've never seen Dubrovnik. But I've taken those kids to Asia and all these crazy places, South America. I have yet to bring them to India. So that's a mega trip on the horizon that I want to do; because, listen, India changes you. It's not a vacation, it's an experience.
What place have you visited multiple times? And why?
Swanson Beard: Europe.
Miele Beard: Yeah, I mean, as a kid, part of my childhood [was spent] in London, and I really love London. I always feel very connected to [the city]. I just love the people. I love the customs. I think there's no more beautiful place to be in June or right before the holidays than London. It's really special. And you know what? I keep going back to the Middle East. We've been to Turkey a bunch, we've been to Jordan and Israel. But again, my happy place is Europe.
Are you an itinerary planner? If so, how detailed do you get and how much will you stick to it?
Swanson Beard: I really don't like itineraries. I'm truly a homebody. I mean, I'm a Cancer through and through. I want to be home. Home is actually my most favorite destination. So if we're going on vacation and we're traveling with friends, I feel like I've been drawn to those who are planners. I'm happy to go along and do the thing, but I don't know, I'm not the itinerary person. I'm really not.
Miele Beard: I am! I have bucket list of stuff that I want to do. There's got to be a draw. There has to be an itinerary.