The Off-the-Grid Hotels To Truly Get Away From It All
When OOO should stand for "out of orbit."
Photo Courtesy of Kisawa Sanctuary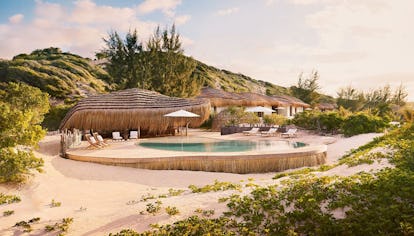 The best vacations allow us to relax, recharge, and reconnect with ourselves and/or our loved ones. All too often, however, we plan trips at the full-steam-ahead pace we're used to in our everyday lives. While aiming to do and see everything and pack our days with site-seeing and activities is admirable (and usually knocks a few things off our bucket list), we hardly return home feeling as well-rested as we'd like, which is why stays at off-the-grid luxury hotels promising a chance to fully disconnect with the hustle and bustle have become more and more desirable. For some, a remote vacation might look like a jungle escape, for others it could be a tropical island quite literally in the middle of nowhere. That said, going off-the-grid doesn't necessarily have to mean straying very far either, as one of the hotels on our expert-vetted list is just a two-hour drive from NYC.
According to Kelly Grumbach, Senior Vice President of luxury travel agency, Quintessentially Travel, "The best luxury remote hotels allow guests moments of calm and contemplation without compromising service, style, and pleasure. It's space for guests to breathe, to listen, to learn, and return home feeling energized, with a new passion and curiosity for what comes next." The through line for these types of trips is the feeling of freedom they offer as well as the chance to explore new regions, partake in unforgettable experiences, and honor yourself with "nourishing food and wellness treatments," Grumbach adds. Not to mention the desire for a poor WiFi signal (we kid, although we're sure that can be arranged). Keep reading for the full lowdown on the 11 best, expert-backed hotels to get away from it all, below.
Kisawa Sanctuary: Mozambique, East Africa
Boasting 300 acres of forest, beach, and dunes Kisawa Sanctuary "is a little corner of paradise that focuses on sustainable practices to make a positive impact on the local community and its natural surroundings," says Joan Roca, CEO and founder of Essentialist, a members-only luxury travel agency focused on curating bespoke experiences for its clientele. Located on the southern tip of Benguerra Island in the Indian Ocean, Kisawa Sanctuary offers just 11 bungalows, each complete with their own private beach, an open-air deck, infinity pool, outdoor day area, and kitchen. For such an intimate space, the hotel offers a whopping seven different culinary options, all emphasizing local produce sourced from nearby farmers and fisherman or grown within the hotel's own kitchen whenever possible.
Four Seasons Naviva: Punta Mita, Mexico
Naviva is an adults-only resort featuring 15 meticulously designed tents complete with their own private guide and plunge pool. Surrounded by 48 acres of forest and situated on the edge of a private peninsula in Punta Mita, it's the perfect place to relax and unwind. What's more, Grumbach highlights that the all-inclusive resort has done completely away with day-to-day monetary transactions in an attempt to further encourage a sense of escape for its guest. While Naviva's spa and wellness offerings are all top notch, no trip is complete without, "Braving the temazcal," Grumbach says, which is "a traditional pre-Columbian sweat lodge ceremony that promises guests newfound spiritual strength." Sold.
Perivolas Hideaway: Santorini, Greece
While it's technically considered part of Santorini, Perivolas Hideaway is actually located just a stone's throw away on the island of Therasia, which is just one of the reasons why Roca loves it. "You're out of the city buzz, in complete relaxation, but close enough if you want to explore Santorini's sites," she notes. Having previously been a mine dating back to 1850, the four-bedroom, six-bathroom villa has maintained its striking original Old World facade, while completely re-imagining the interior spaces, think minimal white rooms coupled with the bright pops of color Greece is known for. Only accessible by sea, it features breathtaking water views that will have you feeling like you're miles and miles away from any trace of civilization.
Mashpi Lodge: Mashpi, Ecuador
For a taste of the jungle, head to Ecuador's Mashpi Lodge. More like a "glass treehouse than hotel," according to the Essentialist team, Mashpi Lodge is situated at the center of a 3,200-acre private nature reserve between the "lower rainforest and the clouds." To further cement its off-the-grid-feel, the hotel's 24 rooms have been constructed in a way that allow for complete privacy, meaning you never have to close your curtains, and with jungle views like these, you won't want to. Highlights include birdwatching from the property's terrace as well as waterfall-filled guided nature hikes.
Habitas On Hudson: Staatsburg, New York
Looking for a little seclusion, but want to stay close to home? Check out Habitas on Hudson outside Rhinebeck, NY, a quick 90-minute train ride from the city. Having just opened this past October, the latest addition to the luxury Habitas group continues to maintain a focus on wellness, "from hiking and canoeing, to sunrise yoga, and cold plunge," says Grumbach. She also encourages guests to take advantage of the many visiting art and cultural experts the 20-room Neo-baroque manor hosts, offering everything from breathwork to tie-dye workshops.
Morukuru Beach Lodge: De Hoop Nature Reserve, South Africa
South Africa is known for its many breathtaking sites, from once-in-a-lifetime safaris, to stunning beaches, but if you're looking to get away from the tourists and secure a little R&R, Morukuru Beach Lodge is the place to head to. Nestled inside De Hoop National Park, the five-bedroom seaside hotel can be booked per suite or as a single villa. Its ultra-secluded location allows for unparalleled relaxation, however it's the lodge's many unique activities that got Roca hooked. Whale watching, sandboarding the surrounding dunes, and guided marine life walks are just a few of the experiences the hotel has to offer.
Regent Phú Quốc: Phú Quốc, Vietnam
A Vietnamese island off the coast of Cambodia, Phu Quoc is the stuff dreams are made of. "Its undisturbed natural wealth is unsurpassed with half of the island a protected natural park," says Grumbach. And there's no better place to explore it from than The Regent Phu Quoc. "Suites and villas are light, airy private havens with design elements inspired by Vietnamese culture and framed views of landscaped gardens or majestic ocean scenes," she continues. Book a Serenity Cruise for a tour of 29 unspoiled small islands nearby, or saddle up at The Rice Market Restaurant to taste the best of Vietnamese and Chinese cuisine. There's really no wrong way to do it.
Shipwreck Lodge: Mowe Bay, Namibia
Don't let the name fool you. Dotting Namibia's Skeleton Coast, where the remains of over a thousand shipwrecks can be seen, the 10 eco-friendly cabins that make up Shipwreck Lodge are havens for tranquility. Its remote location "allows opportunities for peaceful desert walks and wildlife spotting," says Roca and, "despite the desolate landscape, modern comforts such as fine food, laundry service, and Wi-Fi are easily available." Insiders know to book a private beach lunch and a Sundowner Drive over the desert dunes to watch an expansive African sunset with your favorite drink in hand.
Six Senses Shaharut: Shaharut, Israel
Appearing on both Roca and Grumbach's lists, Six Senses Shaharut is almost otherworldly in its desert location, with "its boundless horizon often [being] described as the nexus between heaven and earth" says Grumbach. Not to mention that the hotel itself was integrated into the side of a dramatic cliff. Its 60 suites and villas were designed to blend in with the natural topography, contributing to the instant connection guests feel with the surrounding environment. "If it's uninterrupted solitude you're looking for, this is the place" Roca attests. From the organic and ethically-sourced food, to the spa treatment rooms, no detail at Six Senses has been overlooked. This sentiment extends to the hotel's vigilant environmentally friendly ethos. Grumbach says that the resort has banned plastic straws and bottles, and uses biodegradable cleaning products in place of conventional ones. Water also "comes from local sources, and is then tested, cleansed and purified, and bottled on site."
Rosewood Luang Prabang: Nauea Village, Laos
Given that a river from an adjacent waterfall runs through the Rosewood Luang Prabang property, you can bet that the tranquil retreat is a cut above the rest. "The picturesque French-Lao architecture, the richness of the surrounding jungle, and the charm of historic Luang Prabang all make this a magical place to get away from it all," says Roca. The hotel's 23 accommodations range from hilltop luxury tents, to villas complete with their own private pools and wraparound patios. Among its many standout features is The Elephant Bridge Bar, situated on a unique wooden bridge overlooking the river and offering classic cocktails with a tropical twist.
The Green O: Greenough, Montana
Offering over 80 activities, including Moonbiking, a new alternative to snowmobiling (it's the only resort in the U.S. to offer it), The Green O located on Montana's 37,000-acre Paws Up Ranch is where contemplative solitude meets adventure. Its 12 thoughtfully designed homes nestled among the trees provide sweeping river valley and mountain views as well as the utmost in privacy. The food served in the The Social Haus, The Green O's restaurant, is seasonal and vibrant, and allows guests to "enjoy a nightly tasting menu where each course is served by the chef that created it," Grumbach relays. A final tip? "Two little known secrets are the Tea Menu and the all-day pizza — delivered directly to your 'haus.'"