This Swiss City Is One Of The Most Popular Fall Destinations, According To Airbnb
Shutterstock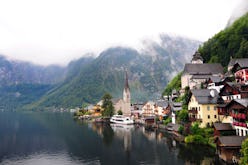 Autumn isn't generally considered "vacation season," but turns out, this may be the best time of year to book your next trip. In fact, when it comes to travel, the upcoming months offer a lot of appeal: Cooler temperatures in many countries allow for more comfortable, all-day sightseeing, places in their off-seasons are seeing a lull in tourist traffic (leading to fewer crowds and lower prices), and local festivities are perfect for those looking for a bucket list cultural experience. All this considered, it's no wonder that this year's top travel destinations for fall include jet-setting ideas that are far from conventional.
But the secret's almost out, and as more people seek unique experiences and shoulder season travel deals, wanderlusters are beginning to catch on. Ahead, the experts at Airbnb share destinations that have seen the highest increases in bookings since last year, plus the local homes that everyone is adding to their wish lists. From experiencing the legendary foliage in Canada, to soaking in majestic mountain views in Switzerland and Austria, to visiting Mexico minus the Spring break vibes, it's time to jump on these rising travel trends before everybody else catches on. Yes, summer's almost over, but the new "vacation season" has just begun.
Top wish-listed home: Chic Guest Suite Across From Park || $53/night
Want to skip the country without going too far? Head to Regina, Canada for an autumnal escape. Consider a stay at one of the city's most wish-listed Airbnb accommodations, an adorable suite with a spacious backyard lounge area and rave reviews.
While there, you can soak in the country's famous fall scenery by meandering through the nearby Kinsmen Park South, or head to the Wascana Lake for some beautiful water views.
Top wish-listed home: Beatenberg Magic Place & Pool - Private Suite || $82/night
Mountain views are breathtaking any time of year, and Switzerland is notorious for having some of the world's best. So go in the fall during the country's shoulder season; you'll encounter fewer crowds, and hopefully, more affordable pricing.
This top wished-for listing will give you a front row seat to surrounding nature, which pops with colors during leaf-peeping season. Enjoy quiet time in your private suite, or mingle with fellow travelers in the common areas, including a living/dining room, garden lounge, and terrace. Adrenaline junkies can even catch a bird's eye view of the changing trees on a tandem paraglide adventure with one of the hosts.
Top wish-listed home: Beppu Villa Kai || $131/night
One of the host cities for the upcoming rugby world cup, Beppu is attracting visitors from around the world this fall. The city is also known for its hot springs and bath houses, perfect for unwinding after a day of sightseeing (or battling it out on the sports field).
This spacious villa is a favorite amongst Airbnb viewers and includes a traditional onsen bathroom, meant for hot soaks, that overlooks the property's garden. With room for 10 and a central location to downtown and Beppu Station, this villa is a great option for groups.
Top wish-listed home: Luxury Polanco's Heart, Terrace, Pool and Gym || $123/night
No need to save your trip to Mexico for Spring break; instead, bypass the partiers in favor of fewer crowds, cheaper prices, and slightly cooler weather. That said, you'll probably see more rain too, but those are the best days for shopping, right?
This sought-after listing offers hotel-like luxury with Airbnb's famously affordable prices. This two-bedroom apartment features marble accents, skyline views from the terrace, and guests have access to a modern pool and gym. It's also within close proximity to the shops and restaurants in Polanco, a ritzy neighborhood in Miguel Hidalgo.
Top wish-listed home: Hilltop Cottage with Swimming Pool || $98/night
Puerto Rico is a popular hot spot in spring and summer, and turns out, the fall season is also rising in popularity. While visitors may encounter some extra rain and clouds, off-season booking deals can make a few days of damp weather worth it.
One affordable way to stay on the island is to book this frequently viewed cottage with room for two. While guests have access to a shared swimming pool that overlooks the ocean, the tropical white sands and turquoise blue waters of Flamenco Beach are just a short distance away.
Top wish-listed home: Guest Apartment in the Heart of Halle || $42/night
Although millions flock to Munich for Oktoberfest in the fall, Airbnb is seeing a rise in bookings outside of the city. One destination gaining traction is Halle, a worthwhile visit in its own right. It's filled with historic architecture and is a four-and-a-half hour car ride (look for public transit options, too) from the famous beer-drinking festivities.
In addition to sightseeing around two gorgeous cities, another benefit to booking away from the crowds is affordability. This is evidenced by the price of this downtown apartment, which sleeps three and is central to attractions and transportation.
Top wish-listed home: Game Day Cottage in the Woods || $110/night
As it happens, some of the best foliage is the world is right here in the US. Located within an hour's drive of the Blue Ridge Mountains, Anderson, South Carolina has seen an increase in visitors for fall.
Naturally, the best way to make the most of your trip is to stay in a place surrounded by trees, one major reason this rustic-chic cottage has been added to many Airbnb wishlists. Here, you'll savor the seclusion of the woods, plus the convenience of being within close proximity to Clemson University and things to do nearby.
Top wish-listed home: Haus Hepi B&B near Lake Hallstatt 2
Another European country in its shoulder season, the mountainous terrain of Austria is especially stunning come autumn. There, you'll have plenty of opportunities to commune with nature amidst the color-changing trees.
It's no wonder this quaint B&B is a top contender on Airbnb wish lists. Relax in peace and serenity while hiking, biking, or strolling the shores of Lake Hallstatt nearby. And, no stay would be complete without a cable car ride up to the local mountain, The Krippenstein.