Experts Say This Is The Most Common Regret Travelers Have
Alena Ozerova/Shutterstock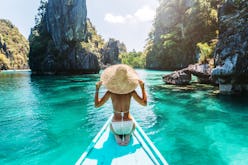 If scrolling through photos of snowy ski retreats and sandy beaches has you feeling left out (or downright green with envy), you may have a classic case of FOMO. If this is the issue, the only cure is to go out and do some exploring, yourself. Of course, there are a few logistics to consider; finances, PTO, and prior booking mistakes are all common travel regrets that make people opt to hunker down and stay at home.
However, there are solutions to common travel faux pas if you think a little outside the box. Try heading to a domestic all-inclusive resort, leaving the country by cruise, and avoiding costly travel mistakes if you're short on money or time. You can also forego a traditional hotel for an Airbnb, which does double duty by saving you money while offering unique lodging experiences.
Thanks to a survey by the trendy rental site, you can save yourself from another year of FOMO by learning from other people's mistakes. Ahead, you'll see some of the biggest travel regrets reported by Airbnb users in 2018, plus pro tips on how to avoid them. Pack your bags, because it's time to post your own swoon-worthy vacation pics.
Regret #1: Being Held Back By Finances
It's a travel lover's biggest gripe: They want nothing more than to see the world, but of course, that costs money. Airbnb reported that a full 47 percent of survey-takers regretted being held back by financial constraints.
With statistics like this, there's a strong chance a fellow wanderlust-er in your life feels the same way. If that's the case, Ali Killam, consumer trends spokesperson at Airbnb, suggests getting a group together and splitting the cost of an affordable Airbnb — it's a win-win for everyone. "There are homes on the [Airbnb] platform for less than $20 per person, per night," she points out. "You can now split payments for groups, which makes it much less stressful, since you don't have to chase down your friends to reimburse you."
Two of her favorite listings include the Nirvana Lodge, which sleeps 12 and costs $399 per night, and Brigand Hill, which comes with a full staff, sleeps 10, and costs $550 per night; both are located in the Caribbean.
Regret #2: Not Booking Until It's Too Late
Sure, you can score some amazing last-minute travel deals. But if you have a particular location or trip in mind, you're better off thinking ahead. Although 42 percent of Airbnbers are most likely to book their vacations in the summer, they could be missing the optimal booking window.
"If you plan ahead, you'll have more homes to choose from within your budget," says Killam. "Plus, Airbnb offers a Pay Less Up Front option, so guests have the option to pay part of the cost at the time of booking, and the rest closer to check-in."
Regret #3: Settling For Spots That Aren't Private
Whether you're planning a romantic getaway for two or some quality family time, some travelers simply prefer privacy. If this is your vacation style you're certainly not alone; 54 percent of survey takers rank privacy and seclusion high on their priority list. And luckily, you don't need to own an uncharted island in order to feel like you've gone off the grid.
"There are so many unique homes on the platform that really give you a one-of-a-kind experience," says Killam, mentioning that treehouses, tiny homes, and yes, even private islands are available to rent through the site. She suggests checking out the stunning Hilltop Refuge in the Dominican Republic; the Coco Lodge on the island of Marinique, nestled in lush greenery; this luxurious Private Island in the Caribbean (it sleeps 19, and would be perfect for an epic family reunion); or the Talking Trees House in Barbados, with both rustic and tropical charm.
Regret #4: Not Making The Most Of Your PTO Days
Let's face it: In many cases, you don't have a lot of control over your paid time off, unless your boss is willing to negotiate. In fact, 20 percent of Airbnb users said that limited PTO hindered them from making vacation plans. But even if yours is particularly limited (or non-existent), you can still book a mini-getaway that has you feeling rejuvenated.
"If your vacation days are limited, take advantage of a long-weekend getaway around national holidays for a quick refresh," suggests Killam. "Right now we're loving cozy winter escapes to the Catskill Mountains and Hudson Valley, and the Great Smoky Mountains, both of which made the Airbnb list for 2019 trending destinations. For those looking for sunshine, consider the Dominican Republic, Puerto Rico, or the Bahamas."
In search of a quick and affordable escape that requires minimal planning? Consider setting sail. "For travelers with limited vacation time, a cruise can be a fantastic option," suggests Chris Faust, managing editor of Cruise Critic. "You can have an incredible, quick break to a tropical destination, get some vitamin D replenishment, and be back at work the following week — without spending too much money, or wasting too much valuable vacation time." Check out some options below:
Regret #5: Skipping Out On Seaside Getaways
For many, the idea of a vacation conjures images of sandy beaches, palm trees, and piña coladas. Perhaps that's why those who miss out on tiki huts and tan lines report feeling serious FOMO. According to Airbnb, "nearly two out of three Americans regretted not taking a warm-weather beach vacation," but being low on cash, planning inspo, or PTO shouldn't stop you.
"There are so many beach destinations to choose from that are closer and more affordable than you think, from the California coast and the Gulf, to the Atlantic coast and the Caribbean," says Killam. She adds that booking the spring may offer more availability, and many seaside offer so much more than swimming or basking in the sun (although, that's fine, too). "Right now the Caribbean and its festive Carnival season are on our radar," she says. "Traveling to the region for the celebrations is a great way to have a beach vacation and an impactful cultural experience."
Not sure where to start? Check out Seaglass - On the Water in Nassau, Coco Kai Beach Front Villa in the Cayman Islands (this one sleeps 15 — consider booking your break with friends), and this Luxury Beachfront Villa in the Bahamas.