Step Up Your Hostessing Game This Season With This Festive Summer Tablescape
Perfect for dining al fresco.
The Six Bells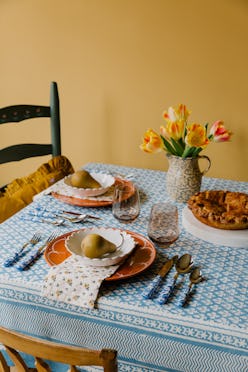 With spring in full bloom and summer on the horizon, trendy seasonal tablescapes are at the forefront of home decorating. From florals and gingham to earthy natural materials like jute and rattan, the options for mixing and matching different colors and textures are a must to uplift your dining room while entertaining family and friends.
"Don't worry about getting too matchy-matchy," recommends Marie Joh, head of merchandising for home retailer, The Six Bells. "Ginghams and plaids are always in season. Nutmeg and other rich browns reigned this past fall; look for light tans and terracottas this spring as your grounding neutral. Hand-painted candlesticks, whether you can bear to burn them or not, add botanical interest when there's no room for a floral arrangement. Prefer live florals? Ditch the glass and go for an embellished ceramic jug or urn instead; even when empty, they feel like a decorative centerpiece."
Mixing up spring-worthy accents for a tablescape can make for a chic and non-cliché vibe, even if some of your base patterns lean on the more traditional side. Mixing in more modern or minimalist flatware and stoneware is a great way to elevate and balance out a table. "At The Six Bells, our tablescaping style tends toward country maximalist," explains Joh. "We love to layer florals, ginghams, and plaids with accents in natural materials.
Revamping and organizing your dining room table setup can serve as the perfect mid-year refresh. Whether used as a resting place for hosting bills, paperwork, and other miscellaneous items, clutter can easily pile up on a table over time, creating a messy and untidy feel. However, with a well-patterned tablecloth, floral arrangement, and other core accent pieces, having a visually pleasing tablescape that's inviting and welcoming can help bring an entire room together in minutes — and bring you a bit of mental clarity as well.
"Dining tables can become a catch-all for the day's clutter — bills, paperwork, and shopping bags can pile up. By laying down an everyday tablecloth (machine washable, of course) and maybe a simple arrangement of farmer's market flowers, it sends the signal that the dining table is a destination for gathering and connecting. It makes every meal and snack feel more like a daily indulgence, and entertaining last-minute dinner guests becomes less stressful," says Marie Joh.
Now that you've gotten the lowdown on why a trendy spring tablescape may be the exact thing your dining room (or outdoor space) needs this season, ahead are a few ideas to add to your mood boards for the next few months.
Go Floral
What better way to transcend your dining room table than with a fresh set of florals? From prints to real bouquets, floral motifs epitomize the equinox season. As a daily reminder of what spring and summer are all about, florals can quickly liven up any tablescape with a fragrant, soft, and pleasant appeal — no matter if they're painted or stitched on or set in a vase.
Cottegecore Gingham Prints
Gingham prints have been making a comeback for the past few years now, and aren't losing steam. The overlapping patterns make for a visually pleasing effect in home decor and add some whimsical interest. Whether on tablecloths, linen napkins, or dishware, gingham cottage-core items are a trendy way to invite the season with open arms.
Natural Woven Materials
Woven materials are like the cherry on top of a sundae. No matter what ideation of the natural take you're looking to incorporate, whether it's a placemat, basket, or napkin ring, these elements scream spring in full bloom.
Think Soft Pastel Colors
Incorporating pastels into your dining area is a calming, soothing, and pleasant way to create a heavenly atmosphere. From lavender and limoncello to baby blue and soft pink, pastel colors have a more washed look than your typical bright hues of ruby red, forest green, and cerulean blue.