English Country Kitchens Are Replacing Modern Ones For 2023
You can thank Lily Allen for that.
@devolkitchens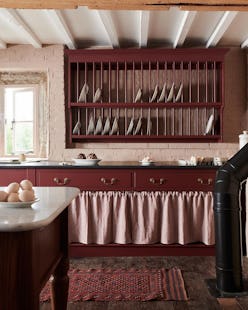 We may receive a portion of sales if you purchase a product through a link in this article.
Amidst the bevy of "cores" that have swept the interior design world in recent years, like cottagecore and coastal grandmother, a sophisticated, yet lighthearted hybrid has quietly emerged from the ashes. Yes, it seems that the "English country" style is having quite the moment, particularly in kitchens far and wide. And you can thank British singer-songwriter Lily Allen for that.
In her February 2023 cover feature for Architectural Digest, Allen and partner David Harbour offered viewers and readers a grand tour of their colorful and whimsical Brooklyn home, which they described as "weird and wonderful." And while the maximalist, high-octane living room and sitting room were essentially elaborate feasts for the eyes (bedecked in green and pink color schemes respectively, vibrantly printed wallpaper, and wall-to-wall patterned carpeting), it was the sweetly subdued kitchen that really got people talking, er, searching.
Unofficially categorized as "English country," the space — which Allen notes in the AD interview as the "beating heart of the house" — looks like a set right out of Downton Abbey or Bridgerton in that there's a balance of regality and casual comfort. The walls, distressed wood floors, and marble counters are washed in varying shades of white, ivory, and beige, making for a perfectly imperfect neutralizing effect that reads very chic. The warmth and color of the space comes in the form of plum-colored checked upholstery that covers the kitchen island, banquet table and chairs, as well as the recipe books, dishes, and cookware displayed in the open shelving.
Since the home's debut at the top of this month, the video tour of Allen's space has generated some 3.3 million views and Google searches for "English country kitchens" have skyrocketed some 144%, according to kitchen retailer, Magnet. Which begs the question: Why all the fuss around these British kitchens and what does the aesthetic actually entail?
"Country kitchens are sweeping the interiors world at the moment as people return to the charm of its more traditional and warming features opposed to the modern trends we've seen recently," says Jen Nash, design excellence manager at Magnet, in a press release. "They are also gaining popularity thanks to shows like Downton Abbey, Bridgerton and The Crown, which are drawing people into the rustic charm of English country style more than ever before. The style is warm, welcoming, and timeless — effortlessly merging both comfort and practicality."
And, if we learned anything from Allen, one does not need to be a country dweller to adopt this cozy aesthetic. "It's all about combining natural materials like wood with a coastal color palette and patterns," says Nash. "A popular trend at the moment is then adding a more sophisticated edge to the space with brass accents, fluted details, and even curved islands to elevate the design."
If you're ready to transport your kitchen to the English countryside, shop the selects below.