Earthy, Eclectic Home Decor Offers A Fresh Way To Upgrade Your Space For Spring
@thejungalow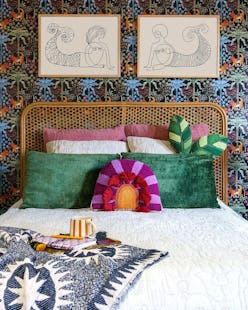 We may receive a portion of sales if you purchase a product through a link in this article.
With the weather finally warming, there's a newfound motivation to spring clean our homes and prepare for a fresh new start. Whether you quite literally want to add a change of scenery to your space or are simply looking for new pieces to elevate your home's aesthetic, this is the perfect time to integrate earthy and natural home decor staples into your space.
"Consumers are looking to create a sense of escapism through landscape-inspired forms in woven textiles and art," says Caris Fawcett, textile designer at The Citizenry. "We expect to see an increased appetite for organic shapes, earthy palettes, and natural textures especially those grounded in sustainability. These components bring the joy and serenity of the outdoors in."
Earth-inspired home decor is a calming and enjoyable way to bring a sense of peace to your surroundings. These types of pieces quite literally allow you to feel at one with nature in your living space. "Earthy and eclectic pieces allow homeowners to feel grounded while also playing with personality," says Fawcett. "By bringing in tactility, curved shapes and natural colors, these elements are an escape from the everyday and help bring tranquility back to the home."
When tapping into an earthy aesthetic, natural materials are certainly the place to start. Think woven baskets, calm neutral bedding, and hand-knotted rugs to name a few — sustainable accents provide a balanced and comforting feel to any space. "Styling natural elements with more eclectic pieces with historical influences can create a layered and nuanced retreat, especially now that people are spending more time in their homes as more and more have chosen to work remotely," says Paulo Kos, vice president of design and development at The Citizenry. "Infusing spaces with natural materials like warm wood tones and woven jute and wool rugs is a great way to bring nature into the home. Picking a palette inspired by [the outdoors] such as the desert hues of terracottas and tans or cooler coastal blues like our new Aegean linen bedding color is another great way to infuse some earthy qualities into a space."
Indeed, nature-inspired colors remain an important factor when integrating a more serene aesthetic into the home. Warm, calming neutrals in particular, create a sense of restoration and renewal, laying the foundation of warmth this season. And, those who love a poppy hue, fear not. "Color remains important this season but is reimagined in washed-out hues. We expect consumers to gravitate towards a muted, serene palette seeking feelings of restoration, serenity, and warmth. The new neutrals, terracotta, rust, and rose will lay a foundation of warmth this season," says Paulo.
To really add to that nature-focused feel, decorating your home with plants and natural elements such as wood and stone, are the perfect way to create a comforting lush environment. "Someone who enjoys spending time outdoors will often decorate with plants and natural materials like wood, stone and natural fabrics like linen and cotton. I personally love the grain and warm tones of woods like walnut and maple," says Paulo.
By mixing and matching different textiles, materials and colors, natural eclectic home accents provide a wide range of styling techniques that give you a chance to create a fun, layered look. "While natural materials continue to remain popular, as these are sustainable and long-lasting options, pairing them with varying techniques and materials allows homeowners to curate an artfully collected home," says Caris.
Now that you've gotten the rundown on why earthy eclectic home staples may be the key to your next home spring cleaning sesh, ahead are a few pieces to help bring the aesthetic to life.