Maximalists, This Spring's Biggest Decor Trends Are For You
What's in for the season ahead.
TOV / Instagram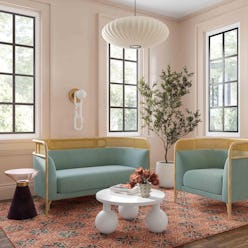 We may receive a portion of sales if you purchase a product through a link in this article.
Spring cleaning may already be on your agenda, but hear us out: A little decor refresh for the upcoming season is in order as well. Winter is long (is it really still January?), depressing, and just plain dreary. So when warmer weather finally starts to roll around, there's nothing that will help boost your mood more than giving your home some new life. And fortunately, spring 2023's top decor trends are perfectly poised to help you do so.
Right now, there are almost no "boring" or "subtle" trends to speak of. For the coming months, designers say it's all about making a statement. Yes, the spring home collections that have already dropped hinted at this. But the experts' forecasts confirm it: Bold is the name of the game for spring.
That's not just true for colors either, though the up-and-coming hues are certainly not shy. No — spring is calling for eye-catching textures, funky forms, and unique, meaningful finds, with only a few subtle, grounding accents mixed in.
Maximalists, this is your time to embrace the noise and go wild. And minimalists? Consider spring an opportunity to venture outside your comfort zone — whether that means adding a jewel tone to your trim or trying wallpaper for the first time.
The end of winter is in sight, and its demise is bringing on a brighter aesthetic that anyone can welcome into the home. Find out the biggest upcoming trends — plus how to pull them off — just ahead.
Bold Colors
Warm neutrals have been the hues on everyone's tongues so far this year, but according to many designers we spoke to, bold colors of all kinds are on the rise for spring.
Maggie Griffin of Maggie Griffin Design says jewel tones are having a moment: "A pop of magenta is popping up everywhere!" she tells TZR. (She's not wrong — Viva Magenta was the Pantone Color of the Year for 2023, after all.) Interior designer Breegan Jane, on the other hand, says she's been seeing color pops that feel reminiscent of the '80s style revival that's been happening in fashion. "There are lots of pinks with greens, yellows, and blues," she explains. "The design is unapologetically maximalist." And Deanna Jacoby, senior designer at Jenn Feldman Designs, notes that in addition to noticing an uptick in jewel tones, she's also seeing fresh pastels and chocolate browns.
Jacoby's advice for adding one of these hues into your home? "If you like a challenge, we're loving the look of a pop of color (even a neutral!) in small jewel box spaces — think powder rooms, laundry rooms, or on architectural surfaces such as doors and trim," she says. "Paint is an easy way to make a huge impact in any space."
Interesting Walls
Yes, a jewel tone on your walls is definitely a bold move. But for spring, designers are looking beyond a simple hue to add interest around a room. Andi Morse of Morse Design says wallpaper is a trend that will continue into spring: "On bathroom walls, on kitchen walls, on bedroom walls, or even just a focal wall. It's here to stay!" she tells TZR. She recommends incorporating it into unexpected places like laundry rooms to help make them feel more special and elevate them to a new level.
Jacoby also says wallpaper is trending, along with other ways to provide walls with more texture. Examples include "textural wall applications [like] limewash or plaster wall treatments, grasscloth or botanical wallpapers, and unique applied wall molding details," which she says "give a space depth and are a fresh nod to classic European design staples."
Curves
Ah, curves — the trend that never ends. Yes, once again it's being noted by designers as a top detail for the season ahead. So if you've filled your home with soft, organic silhouettes already, you're in luck.
Morse says curves are particularly popular right now in home builds and furniture: "Arched entryways, curved staircases, and sofas that are more rounded, as well as coffee tables and dining tables with rounded edges," she explains. And Jane agrees. "I'm seeing lots of kidney bean shapes and organic-feeling edges and lines," she shares. "Couches, coffee tables and other furniture pieces are featuring this stylized curvature and shape that feels like a natural flow, a big departure from hard edges."
Natural Materials
OK, it's not all about in-your-face details for spring. Yes, bold colors and interesting walls may be trending. But according to Hayley English of Hayley English Interiors, so are more subtle materials. "One of the biggest interior decor trends I'm seeing as we head into spring is the use of rattan, cane, and inlay," she shares. As English explains, these can be incorporated in ways big or small, from a cane bed to a rattan tray, inlay chair, or rattan lampshade. And there's ample reason to do so. "The addition of such pieces makes a room feel more approachable and inviting," she continues.
Antique & Vintage Finds
As you've probably already guessed from the rising prices at your local antique stores, secondhand finds are having a major moment that just won't quit. And yes, that will continue to hold true for spring 2023. "There's a nostalgic vibe that's happening," Sara Malek Barney of BANDD/DESIGN tells TZR. "Vintage pieces will bring sentimental value (and double for those who remain eco-friendly!)."
English agrees. "Antique or vintage finds are going to be huge this spring," she shares, explaining that she personally loves the process of sourcing these special pieces while learning about their significance. "These finds not only create dynamic spaces, but facilitate the storytelling of the design."