Why 2023 Brides Are Ditching Fine China
Let them eat off of stoneware.
Shutterstock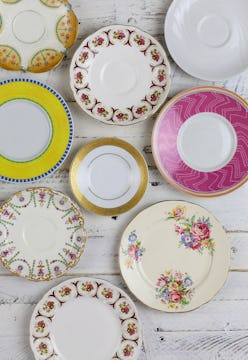 For the year before Alaina Andreozzi's wedding last July, planning didn't just mean choosing flowers for the table or curating a playlist. Carefully curating her wedding registry was as important as the event itself. "It was really important to us to be very intentional with how we were constructing the pieces that we were asking for," says the Brooklyn-based fractional CMO. "We wanted to be able to support not only our home and our communities that we came from through our registry, but also we wanted things that felt like a representation of each of us individually coming together."
Food is such an essential part of daily life, and as such, registries have long been filled with cookware, utensils, and fine china — delicate serving pieces meant only for special occasions. But, the Andreozzis are part of a new generation of couples who are forgoing the traditional requirements, instead focusing on pieces that fit their personal lifestyles and represent them as a couple. "Fine china feels like my mother's registry," she says.
Hailing from a Rhode Island family of artists, Andreozzi and her now husband Jack (who grew up in the San Francisco Bay Area) chose to register for artisanal pieces that celebrated their backgrounds and personal styles. A particular obsession for the couple was Heath Ceramics' Chez Panisse bowls. The Marin-based ceramics company felt like a nod to Jack's home while celebrating their love of food and design.
Modern couples are increasingly turning to full-service wedding planning websites like Zola or The Knot that offer registry options beyond the traditional wedding china — bringing together big box retailers and DTC brands in a way that lets couples find pieces that are particularly suited to their needs and interests. "We were founded on the idea that people don't want their parent's registries anymore, and they don't want their parent's weddings," says Emily Forrest, director of Communications at Zola.
According to Hannah Nowack, weddings senior editor at The Knot, only 15% of couples today are registering for formal table settings. As an alternative, they're turning to everyday tableware that fits their day-to-day.
New Takes On Home
Today, many couples live together before getting married (81% according to data collected by Zola) — a cultural adjustment that has come to shift the way that those engaged choose to register. According to Alicia Waters, executive vice president at Crate & Barrel, that has meant a change "from a wish list of necessities for moving into your first house together, to a means of 'upgrading' an already shared home."
But, many young couples find themselves in small spaces — apartments or homes that don't have the room for a full set of fine china in addition to everyday plates. As such, they are approaching the purchase of those kitchen and table upgrades with a new perspective. "We were really thoughtful about the square footage we have and where things will go," explains Andreozzi. "The last thing I want is a bunch of things that I can't enjoy sitting in storage or in my parent's basement that I can't get access to and who knows how many years."
Choosing stoneware or porcelain plates (which are made of the same material as fine china, but fire at a temperature that makes it more durable) can be used every day can still mirror the feeling of specialness that comes with fine china, but may be more practical given the space available. "A lot of times you might find that couples have the same dinnerware they used in college," says Forrest. "[A wedding] is definitely a moment where they're upgrading a lot of the traditional things."
Changes In Entertaining
Small get-togethers and outdoor parties became the norm amidst the pandemic, and in many ways have set the tone for current ways of hosting. "We've moved away from the idea that you have to have fine china to entertain to the idea that your table should reflect who you are," says Forrest. "The pandemic pushed forward more casual entertaining." Increasingly, the backyard has become a second space for gatherings, with registration for outdoor dinnerware and decor up 17% at Crate & Barrell between 2021 and 2022.
"While fine china can be delicate and less durable compared to stoneware or porcelain, there is a growing trend towards dinnerware that is both stylish and practical," says Nowack. "Many couples are now looking for dinnerware that is not only microwave-safe but also durable enough to withstand daily use." She points to brands like Hawkins New York as filling the space between pieces that are pretty enough for entertaining and sturdy enough not only for use outdoors but also for the dishwasher.
The Case For Fine China
While generational shifts are leading couples to shop for dinnerware that is more aligned with modern lifestyles, nostalgia, and a sense of specialness associated with fine china hold its appeal for some. A market for the delicate serveware still exists, but rather than buying it out of obligation or tradition, those who ultimately decide to ask for a set are choosing it for more personal reasons. For Stephanie Matthews, a growth marketing lead at Compass who got married in September 2021, fine china was an addition to her registry that she originally considered but ultimately removed, a decision she now regrets. "Even if you get a plate and not a full set, at least you have pieces to use and then you can start to complete it," she says. "There's a wonderful sentiment remembering who gave us what and often think about it every time we use things. And so it would be nice to have a plate or a dish that came from somebody. She adds that many of her everyday items now remind her of the people who gifted her the pieces, and while she does ultimately plan to buy a set of china dishes, it feels like a lost opportunity. "[It's a feeling of] 'oh, well, kind of just bought a nice thing' versus having a tie-in to your wedding."
Ultimately, the choice to use or forgo fine china now is more about the personal preferences of the couple, rather than obligation or formal rule. (Around 15% of couples registering for tabletop items on The Knot Registry Store choose more formal settings). As an alternative, a couple may choose to create a registry fund to buy plates on their Grecian honeymoon or opt for something from a local ceramicist that feels special to the duo. Fine china, inherited from a grandparent or found at an antique shop, may still be in the mix as well, but the ways in which it is used have become more casual.
Generational Shifts
Increasingly, knowledge about the brands a couple may be investing in is important to the process as well. "Not only do they want practical items, but they also want to support companies that are doing good," says Nowack. "Couples may spend more time researching the supply chain and manufacturing processes of fine china they're interested in before adding it to their wish list to ensure they approve of not only the look of their dishes but also the business practices that were involved in their creation."
At its core, changes in the ways newly engaged partners choose to register reflect larger shifting sentiments among Millennial and Gen-Z shoppers. A desire for experiences outweighs a need for physical items, and with limited space and more keen budgeting, couples are ultimately eschewing traditional requirements for the things that best suit their needs and interests.
"I do think that that's a very millennial feeling to want to be engaged in the process and so hands-on," says Andreozzi, who believes that ultimately, choosing these special pieces feels like a way to incorporate the experience into the shopping process. "You give yourself more mobility and flexibility in your life outside of just material goods." On that note, Andreozzi and her partner are taking an extended honeymoon in Japan and Taiwan where they plan on bringing home a few sentimental finds to add to their collection of everyday plates and bowls.