The Summer Home Decor Collections Have Dropped — Here's What's Worth Shopping
@housesandparties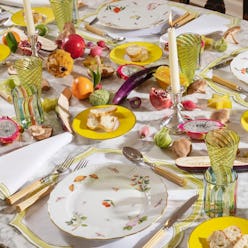 We may receive a portion of sales if you purchase a product through a link in this article.
If you're a shopping enthusiast, it's likely you appreciate the respective new collections of every season. But no matter how much you love spring, fall, or winter's new drops, it's hard to deny that fresh summer decor is, hands down, the best of all the launches. There's outdoor furniture, backyard entertaining essentials, fun hues, and just a general feeling of happiness imbued throughout. And that's especially true for 2023. With a whole host of exciting collaborations, a range of vibrant prints, and touches of nostalgia, the summer home collections this year have more to get excited about than normal. And considering this part of the year is pretty much always the best time to shop, that's saying a lot.
True, you could say there's nothing entirely out of the ordinary to peruse this season. As usual, brands are sticking to the classic offerings: al fresco dining necessities, poolside seating, etc. But unlike many years past, the aesthetics for 2023 are breaking out of the norm. Rather than the go-to Cali cool or slightly Grecian-inspired looks, this year, the designs feel more unique and unexpected.
That's probably thanks in large part to the amount of collaborations this season. With the influence of different voices and perspectives — such as Ayesha Curry for Pottery Barn, and Tabitha Brown for Target — brands were able to provide something fresh for the summer. At the same time, it seems many other brands were just feeling creative. Diptyque, for example, debuted a unique summer collection inspired by light and shadow as sort of an homage to a candle's flickering flame.
In short, your summer decor shopping list will probably be a long one — so there's no time to waste in browsing the collections. Find a few of TZR's favorites to kick things off, ahead.
Magnolia
Joanna Gaines' Magnolia brand recently launched its curated summer collection, and it's exactly what you'd expect a Magnolia summer collection to be — in the best way possible. Full of warm hues like golden wheats and rich terracottas, plus nostalgic designs such as the rustic oil and vinegar set that looks straight out of a country kitchen, the mix evokes a feeling of slow, sunny days in simpler times. Really, what more could you ask for from your summer decor?
Houses & Parties
Entertaining brand Houses & Parties launched a slew of collections for summer and spring this year — all guaranteed to add vibrancy, cheekiness, and tons of style to your soirées for the season (and beyond). And thanks to this, there are plenty of looks to choose from. The True Colors collection offers bright linens and fun fish plates; For the Whole Market brings a range of vegetable-inspired decor for the table; and Miami Cabaret adds chaos to tablescapes in an artistic way with various linens featuring William Eggleston drawings. No matter which theme you choose to go with, your dinner guests are sure to be impressed — and probably a little envious, as well.
Sweet July by Ayesha Curry x Pottery Barn
Collaboration seems to be the name of the game for decor collections this summer — and one of the best is undeniably the Sweet July by Ayesha Curry collaboration for Pottery Barn. Released May 5, it's inspired by summer celebrations, thus featuring all the essentials needed to help you enjoy classic outdoor activities in a laidback, modern style. "I was inspired by neutral palettes, playing with clean lines and textures that can be mixed and matched in the spaces that mean most to you and your loved ones," said Ayesha Curry, CEO and founder of Sweet July, in a press release on the launch. That includes not just al fresco dining basics, but also guest-ready bedding and bathroom accessories so that your warm-weather guests (and you) are comfortable during every occasion of the season.
Leanne Ford for Crate & Barrel
Leanne Ford fans, rejoice: The beloved interior designer has released yet another Crate & Barrel collection, this time including an edited mix of outdoor furniture, dinnerware, and more to elevate your summer decor. Naturally, it brings Ford's laidback signature style to outdoor living, with the star of the drop being a range of sleek teak pieces ideal for lounging in the sun on lazy days. "It's all about being completely blissed out in nature," said the designer about the collection — a sentiment we can probably all get behind.
Diptyque
For its second decoration collection of the year, Diptyque essentially created an homage to summer's light. Launched May 11, the drop — titled "Light & Shadow" — is meant to continue the brand's exploration of the imaginary worlds said to be conjured up by its iconic candle, this time with a focus on the outdoors and featuring shades of yellow. So, of course, you can find candle accessories like the Rays Lantern to help accentuate flickering flames. However, there are also pieces included such as the White Cast Shadow Decorative Plate, which simply evoke the effect of light in an artistic way. Of the release, the brand writes, "In limited edition for the summer, Diptyque's new collection of decorative objects evokes the luminous, sunny aspect of a candle: here, its reassuring radiance; there, optical illusions created by its flame in the dark."
West Elm x Marimekko
The dream collaborations for summer 2023 continue on — in this case, a team-up between modern brand West Elm and Finnish design house Marimekko. And, you guessed it: Together, the two created a collection with summer lounging in mind. For this one in particular, though, it's not all about breezy, neutral style. Rather, it's a celebration of color and Marimekko's iconic patterns, featuring rich yellows, poppy reds, and cobalt blues intertwined with West Elm's sleek designs. Thus, the limited-edition assortment makes it easy to bring vibrancy to your outdoor areas for the season via items like sofas and chairs, water-resistant indoor/outdoor pillows, a hammock, and beach umbrellas.
Tabitha Brown for Target
Target launched its fourth Tabitha Brown for Target collection this May in yet another installment of the partnership with the actor, New York Times bestselling author, and social media personality. This time around, it features a mix of of outdoor and summer entertaining items that are meant to "foster a spirit of relaxation, happiness, and togetherness," according to the brand. That includes backyard entertaining essentials, outdoor furniture, games, and tableware — all, of course, in Brown's signature happy, color-filled style. "What better way to step into summer than with all the outdoor and entertaining essentials you need to help bring friends and family together to make lasting memories," said Brown in a press release.