The Vacation-Inspired Decor Trend Is Here To Turn Your Yard Into A Permanent Retreat
And, it's designer-approved.
CB2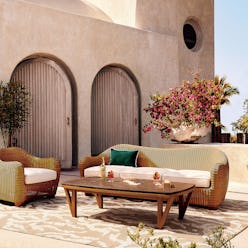 We may receive a portion of sales if you purchase a product through a link in this article.
The words "outdoor decor" and "trend" together are probably a surprising pairing for some. After all, how many trends can there really be for a patio or balcony area? The thing is, though, year after year, experts confirm that new outdoor decor trends do arise for summer — and even three years after the great lockdown of 2020 (the height of the outdoor decor craze), they're still coming in hot for 2023.
Sure, it's true that many are recycled, returning season after season. Indoor-outdoor hybrid spaces have been trending for a few years now, and designers say they're only continuing to grow. Sustainability focused design, too, is still on the rise. In 2022, experts told TZR that it was taking on an increasingly important role in outdoor furnishings; this year, the pros say people are now looking to incorporate eco-conscious design into even more aspects of their outdoor spaces, including their landscaping.
But while some trends have simply evolved, there are certainly new ones to look forward to as well. There's the now the burgeoning vacation-inspired style, as well as a newly relaxed take on design — think wild meadows, natural materials, and a general English-cottage aesthetic.
There's no doubt that there are plenty of outdoor decor trends to try in the coming season, both returning and fresh. And if you're still not sure it's possible for trends to truly exist in the outdoor space? Well, maybe that means it's high time to try some of the expert-confirmed movements out for yourself. Find out how, ahead.
Sustainable Design
Fortunately, one of the biggest trends that experts are seeing (and hopefully one that's here to stay) is good for the planet. According to Amy Hovis, principal at Eden Garden Design and co-owner of Barton Springs Nursery, sustainable landscaping is majorly on the up in outdoor design. Of course, that can mean many things — but according to Hovis, native planting (or utilizing species that have occurred naturally in the area) is one of the primary focuses. "Homeowners are discovering the value of replacing their water-hogging lawns with natural, ecologically sound plants that thrive and require less watering," she tells TZR. "It's an eco-conscious choice that doesn't compromise on beauty."
One way to try this out? Hovis loves the look of a "natural perennial meadow," or a meadow of native perennial plants, which she says is on the brink of being summer's hottest style. "Lawns are becoming completely outdated," she reveals. "It's gorgeous to see how much texture, movement, and life a meadow brings to a yard or garden setting, not to mention experiencing the change in seasons." Not only does this change add "ecologically sound plants that thrive and require less watering" to your outdoor space, continues Hovis, it also "provides vital nourishment for our buzzing bees, fluttering butterflies, and melodious birds." The extra ambience is just an added bonus.
A More "Natural" Look
Hovis may attribute the meadow's newfound popularity to an increased embracing of sustainability, but according to designers, there's more than one reason the lawn replacement is trending. As Havenly design director Heather Goerzen notes, there's a larger "movement away from the rigidity of modernism" happening in outdoor spaces, and a growing focus on organic shapes and textures. She paints an enticing image: "Picture any home in a Nancy Meyer movie or a quaint, English cottage garden with abundant shrubs and flowers, gravel paths, stone details, interlacing pavers reminiscent of cobblestone, and antique-inspired decor — that's where outdoor design is heading. It's a more direct, realistic interpretation (and appreciation) for nature and all its perfect imperfection."
Interior designer Emma Beryl takes this more granular. "Materials such as reclaimed wood, bamboo, rattan, and wicker are becoming increasingly popular in outdoor design," she tells TZR. Part of the reason behind this, Beryl explains, is because homeowners are becoming more environmentally conscious and opting for products that are eco-friendly. However, she says, it's also due, in part, to the trend Goerzen outlined. "These materials give an organic and rustic feel to outdoor spaces, creating a relaxed and comfortable ambiance," says Beryl.
Bringing The Indoors Out
Indoors-meets-outdoors is by no means a new trend, but the pros say it will still be going strong come summer 2023. According to interior designer Grey Joyner, this means the divide between the inside of your home and the patio or backyard will continue to shrink. "There are very few things I wouldn't use in an outdoor living area that I would incorporate indoors," she tells TZR. "Rugs, side tables, decor, lighting, upholstered furniture — it's all fair game!" Hovis also mentions this trend, telling TZR she particularly loves it when paired with the aforementioned wild landscaping. An elegant dinner table setup or an outdoor living room next to your natural perennial meadow can be a "glamorous way to celebrate the natural world and make lasting memories," she explains.
However, bringing the indoors out goes further than just creating a cute area. These days, says Joyner, people don't just want living areas outdoors — they want spots that can be conducive to working comfortably as well. "We now are having to make sure we have outlets accessible outdoors, comfortable seating areas and tables — really thinking about function, comfort, and, of course, aesthetics," she continues. This trend even applies to cooking spaces, says the designer. "The outdoor kitchen is still going strong and becoming more and more like a primary kitchen versus just an occasional grilling area."
Vacation Vibes
For Lexi Brandfon, founder of interior design firm Lex & Hudson, this summer's outdoor decor is all about making a statement. She says that "colorful accessories like umbrellas, outdoor rugs, and throw pillows" are currently on her radar, as well as "maximalist trends like fringe and pattern play." Beryl agrees: "Monochromatic color schemes, simple lines, and sleek designs are being replaced by more bold colorful decor with character," she says. That said, statement decor itself seems not to be the main trend this season, but rather part of a larger movement toward a "vacation"-style look.
"We're seeing a trend toward tropical, resort-inspired outdoor furniture and decor, from nautical cabana stripes to verdant foliage prints," says Goerzen. And Joyner cites even more specific details, telling TZR that a '50s- and '60s-inspired Palm Beach aesthetic is on the rise. "I am seeing this trend coming more to life not only in the furniture but all the beautiful scalloped umbrellas in fabulous colors with the look of rattan."
In general, says Goerzen, you can bring the vacation look home "with cute cabana chairs, tropical plants (if climate permits), and of course, cocktails." After all, she argues, "If there's one thing that White Lotus taught us, it's that we all need to live like we're vacationing at a five-star resort (even if our patio is the size of a postage stamp)."