50 Strange Things With Tons Of Glowing Amazon Reviews You'll Wish You Knew About Sooner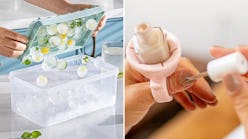 We may receive a portion of sales if you purchase a product through a link in this article.
Do you ever wonder whether those bizarre Amazon products that claim to be "hacks" actually work? It's hard to tell what's useful and what's just marketing snake oil — and that's what our commerce team is here for. Below, they've put together some of the most strange Amazon finds that actually work incredibly, based on both IRL testing and online reviews. These are the kind of weird products that you might be hesitant to buy, but they're so worth it that you'll wonder what you ever did without them.
Below, you'll find interesting beauty finds with uncommon ingredients, unique kitchen gadgets, and other home hacks that might seem weird at first, but may actually change your life. Read on to discover 50 strange Amazon products with thousands of glowing reviews to back them up.