Move Over Bronze & Gold, There's A New Home Accent Town
@projekt44_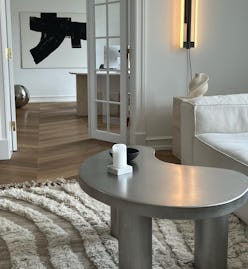 We may receive a portion of sales if you purchase a product through a link in this article.
For the past several years, bronze and gold have been the go-to accent materials in home design. It's easy enough to see why — they have a regal-ness to them that elevates even the most ordinary space. Yet, when their appearance starts to feel a little too tried and true, you know it's time for the tides to change. Just like with fashion, design trends can get stale, which is why the recent comeuppance of metals like steel and iron in home decor have been so welcome. Designer and principal architect of 22RE, Dean Levin, believes this shift can be at least partially attributed to people gravitating towards a more minimal aesthetic. For instance, "...silver and iron blend in well with other natural materials such as lime plaster and lighter woods."
Levin notes that an easy way to realize the trend at home would be to swap out your current bathroom or kitchen fixtures for steel or iron ones. Incorporating furniture like dining or side tables, decorative objects or even mirrors crafted in these materials is another, less invasive option. If you're looking to go full throttle, Levin says, "A stainless steel kitchen would be an amazing addition to any home." Just bear in mind that even though it's durable, stainless steel (which is what most commercial kitchens are made out of) scratches easily. However, there's something to be said for the patina steel inevitably takes on. As Levin attests, "I think a scratched stainless steel counter looks better than a scratched bronze one."
While it might be simple enough to attain the look, before you start filling your shopping cart with all things metallic, it's important to first consider your home's current aesthetic. For instance, if you gravitate more towards neoclassical design, you're better off sticking with gold or a similar material. "A modernist, contemporary or art deco setting is best suited for silver and iron accents," Levin says. This is due to these genres already having a built-in starkness to them, whereas classic design depends on the warmth and grandeur of things like bronze.
To help you get the look at home, we've rounded up a few of our favorite ways to achieve the trend, below. From accent furniture to bathroom fixtures, there's a little something for the modernist in all of us.
Accent Furniture
Decor
Fixtures & Hardware