Basically Every French Girl Has This Decor Item In Their Home Right Now
@annelauremais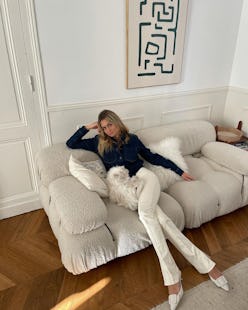 We may receive a portion of sales if you purchase a product through a link in this article.
For the rest of the non-French world, it's always been difficult, if not impossible, to pinpoint exactly what makes French style so irresistible. The same could be said about the way they decorate their homes. Like their outfits, their interiors have a certain nonchalance — they tend to look thrown together haphazardly, yet always manage to exude that indefinable cool-girl chic vibe. Obsessed with French style as we are, we've studied their homes to no end to try to figure out what it is that sets the digs in France apart from the rest. And while we still often come up short, we have been able to hone in on the specific home decor French girls are loving right now, which could definitely be considered a stepping stone to achieving that carefree, je ne sais quoi look you know and love.
Surprisingly, those pieces actually include a few you might already own. While you may expect French influencers to eschew trends and forge a unique path, their Instagram accounts prove that they are not only aware of the items Americans love, but they love many of them, too. One example? The well-known (and oft-documented) body-shaped decor trend, which has exploded in popularity, thanks in large part to designer Anissa Kermiche and her now-ubiquitous vases. If you thought the French would be immune to this, you thought wrong: In fact, their obsession with vessels made in the female form seems to know no bounds. In digging through some of our favorite influencer accounts, the trend came up multiple times in almost every single space.
Don't fret, though — there are some less expected items to discover from France's chicest people and their abodes. Glossy, sculptural stools, for one, can be seen all over their homes right now. And while these certainly exist elsewhere, they do seem to be a type of piece that French influencers are making their own.
Regardless of whether the home items French influencers love are already popular here or just-emerging, the fact remains that the people of this country always manage to style them in the chicest way you can imagine. So, not only did TZR roundup the most popular pieces at the moment after digging through dozens of our favorite French accounts — ahead, we also highlight the ways in which they implement them into their various homes to help you nail down the essence of French-girl interior style once and for all.
Wiry Light Fixtures
This black, sculptural pendant is a *fixture* (sorry, had to) in the French influencer's home right now, and it's not hard to see why. The sculptural Petite Friture design provides the perfect hint of modernity so commonly seen in France's chicest spaces, which is no doubt why influencers like @lilylovesfashion and @madame_decore have one in their own abodes. As they demonstrate, it can also be paired with a range of interior styles — the former opted to include it in her Scandi-style kitchen, while the latter added it to a decidedly mid-century modern space. Fortunately, you don't have to choose the exact, pricey piece to get the vibe this pendant provides; any futuristic, wiry fixture will give a similar effect.
Cane Furniture
If there's one thing to deduce from the accounts of French influencers right now, it's that cane furniture and accents are in — and big time. From the occasional chairs that dot their living and dining rooms to the mobile-like cane chandelier (like @emiliebrunette's) that seems to be basically ubiquitous in France's coolest homes, the trend is everywhere. Thus, the styling inspiration for this material is endless: Try @juliesfi's approach and add it to ceiling and floor, or go with something a little more subtle like @daphnesdreamhome did with the tiny cane nightstand in her cozy bedroom.
Body-Shaped Decor
Like American influencers, the French have adopted the body-shaped decor trend in droves. Look closely, and you'll spot these ~cheeky~ pieces on at least one surface in practically every cool-girl's home. @emiliebrunette has multiple in her space, from the Anissa Kermiche vase on her mantel to the butt-shaped vessel on her living room side table, while @leasy_inparis decorated her bathroom shelves with a Grecian-inspired sculpture. Zoom in, and you'll even spot a small torso sitting on @jeannedamas' bookshelves. Unsurprisingly, this is one of the easiest trends to replicate — most French influencers simply opt for it in the form of a vase, and add one or two in a conspicuous spot in their home. Though you have other options, of course: Thanks to the explosion of this look, there are now body-shaped candles, lamps, and practically everything else you could imagine readily available.
Pampas Grass
Blink and you might miss it, but pampas grass is now a definite staple in the spaces of French influencers. That said, @cerisedaily alone will convince you to give it a try in your own home. The fluffy plant not only has a spot in multiple places in her abode — it's also featured in three different ways just in her entryway. Though, again, there's plenty more inspiration to draw from as well. @emiliebrunette included a bundle of this material to add a whimsical element to her airy space, and @leasy_inparis situated a large pampas grass arrangement in front of her windows to catch the sunlight as it filters through.
Mid-Century Modern Consoles
Apparently, French influencers have caught the mid-century modern bug just as hard as the rest of us. Right now, it seems they're particularly loving consoles and sideboards in this style as a way to add a retro-chic vibe to both minimalist and maximalist spaces alike. @frannfyne displayed one in her pared-back, neutral living room to provide character and a pop of warm wood tones. @madame_decore also added one to her living area, in this case complementing the rest of the largely mid-century inspired space. @dolorescfr, too, has one of her own, using it to show off a small collection of trinkets, artwork, and cameras. In other words, if you really want your home to have that je ne sais quoi, this piece can be a great way to achieve it — it will meld with any style, and provides that Oh this old thing? I've had it forever vibe that's decidedly French.
Wavy Mirrors
You may think that French influencers would be immune to the sways of Instagram — but if their obsession with body-shaped decor proves anything, that's definitely not the case. The fact that they've now adopted the wavy mirror trend demonstrates this further. Yes, everyone and their brother has one of these blob-inspired pieces now, including many of the chicest people in France. Case in point: @annelauremais, creative director of Musier Paris, has made this curvy NV Gallery mirror a focal point in her bedroom. And she didn't stop there: She also placed another wavy framed statement mirror in the corner of her living room. She's not the only one obsessed, either. @emiliebrunette (who is clearly on top of all the trends) gave her own blob-like mirror a central spot in her own living area as well. While gold-framed mirrors, another longtime love of French influencers, have certainly not fallen out of fashion, these organic-shaped pieces are currently giving the more opulent style a run for its money.
Modular Candlestick Holders
Like pampas grass, mid-century modular candlestick holders sometimes blend into the backgrounds of French influencers' spaces. But though they might be small, they definitely have a major place in France's homes. @sabinasocol, one of the country's most well-known It-girls, keeps one on the marble fireplace in her home, expertly juxtaposing it against older, more ornate pieces. And @madame_decore has a similar piece, choosing to include hers with several items of the same retro influence in her living space. From what we've gathered, no French home is complete without plenty of candles — but this trend in particular infuses a sleek, funky vibe that influencers here seem to love regardless of their style.
Glossy Sculptural Stools
Yes, this may seem a random trend. But there's no denying it: All the coolest French influencers have one of these glossy, sculptural stools in their homes right now. Often used as side tables and as a way to add a pop of shine (and sometimes color), they're now being included in basically every room. @juliesfi's baby pink piece acts as a pedestal for her Anissa Kermiche vase; emmanuellek_'s white stool contrasts against the wood table it's paired with; and @fannyb appears to have upwards of three different versions, which seem to switch places and purposes on any given day.