Designers Say This Easy Home Refresh Is Super Impactful — And Totally Free
A new year upgrade on a dime.
@hmhome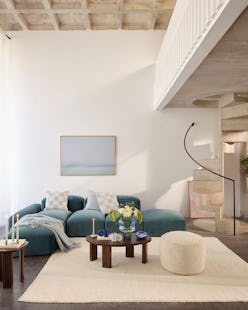 We may receive a portion of sales if you purchase a product through a link in this article.
Whether you ascribe to the idea of resolutions or not, the fact remains that the start of a new year offers a perfect opportunity for change — especially when it comes to the home. A transition of seasons is in sight, fresh collections are rolling in, and frankly, free time is usually at its peak thanks to January's dreary weather. That said, the months prior can be draining on the bank account, which means refreshing your space during this period also presents some challenges. Don't let budget deter you completely, though. According to experts, it's actually very much possible to give your home an upgrade for 2023 on a dime — and maybe without spending any money at all.
That starts with some editing, of course. If you're going to save (and also preserve your sanity), you can't attack everything at once. Instead, design pros — including HomeGoods Style Expert Jenny Reimold — say you should asses the areas you use the most, as they're often the places that could use the biggest revamp. At the same time, there are a few spots you may want to wait on. For HomeGoods Style Expert Beth Diana Smith, those are entries, foyers, and backyard spaces, which she suggests holding off on until spring. "There's something about doing those areas when the weather warms up that makes you feel renewed!" she tells TZR.
Once you've got your strategy in place, it's important to remember that upgrading your home doesn't necessarily mean renovating. Yes, you could knock some things down or tear into walls. But in reality, you can actually make a big impact on your home by doing — and spending — very little at all. "There are so many ways to make a space feel new and different without [buying] new furniture or accessories," interior designer Grey Joyner confirms.
The pros have spoken, so there's no reason to put it off any longer. Continue on to find the rooms designers recommend refreshing for the new year, plus stress-free ways to give them new life for the months ahead.
Bedroom
Still not sure where to start? For Reimold, it's "absolutely our bedrooms!" she notes. "Bedding is the unsung hero of the bedroom and is an easy yet impactful fix." She's not alone: Smith tells TZR she also starts here, using updated bedding "in an effort to bring in tranquility and relaxation vibes in the new year."
That said, you don't have to do a pricey overhaul to get an upgrade. "Eager decorators are often quick to toss an entire bed linen collection in a hurried attempt to refresh a bedroom," says Reimold. Instead, she offers, "Try layering any solid, neutral quilt over the end of a bed and coordinate the look with two to three accent pillows."
If you want to go further, Reimold also suggests giving your nightstands some fresh life — an easy fix with a couple of affordable table lamps that fit the room's style. Or, to spend less money, Joyner recommends just buying new lamp shades or even switching shades amongst the lamps in your home. "This is so much more cost-effective than purchasing an entirely new lamp," she says."
Don't forget about the walls, either — an oft-overlooked part of the bedroom. Joyner says to trade "an art piece in your bedroom for a beautiful framed photograph you've had in your living area for a while" to see how it feels. "The best part is, you can always move things back if you need to!"
Dining Room
While Kathy Kuo Home founder and CEO Kathy Kuo says she also loves to refresh her bedding at the start of each year, she additionally makes it a point to focus on the dining room as well, especially the surface of her console. The best part about this? You often don't have to buy anything at all, she reveals. "It's actually a really fun project to create new arrangements of my favorite decorative objects and keepsakes," she says of updating this spot. "It's amazing what the power of a new scented candle and a fresh configuration of your favorite things can do to reset your mindset for the year to come."
Toussaint Derby, a lead designer at Havenly, also believes this is a good room to revamp. Her recommendation? "An inexpensive and chic way to create a whole new dining room look is to swap out your slipcovers," she tells TZR. "[They can] give the look of new chairs without the price tag."
Living Room
Joyner is another expert who suggests targeting highly used areas for a new year refresh — and for her, this includes the living room. Again, you don't have to spend any money here; instead, try utilizing pieces you already own in new ways. "For instance, in my home, I recently transformed a bookcase I've had in my family room forever into a bar," she explains. "I needed a change, so just repurposed the shelving for storing and displaying glassware, bar tools, decanters, liquor bottles, etc. — it feels like an entirely new space and case piece, simply by [updating] what was on the shelves."
In here, she says you can also try "simply rearranging furniture — swapping where your sofa and accent chairs are, for example, or moving a chaise in your bedroom to a new spot. Surprisingly, these small details shift energy and can provide a sense of newness that many of us crave come the new year."
Finally, don't forget about your coffee table books, continues Joyner. "You can incorporate new colors and add pattern to your living area by changing the books and accessories you have displayed."
Bathroom
William Oberlin, partner at Dutch East Design, tells TZR the bathroom is another good place to start with in terms of refreshments because it's a spot where you can make "quick, high-impact, inexpensive home improvements." His suggestions certainly prove that to be true: "A new shower curtain and bathmat with matching patterns and colors" can make a big difference, he shares.
Andi Morse of Morse Design agrees, though she specifically recommends updating your powder bath. According to Morse, "Getting a new diffuser or candle is sometimes enough to make your bathroom feel and smell fresh." If you want to go further, she also says that purchasing new hand towels and soap and lotion dispensers "go a long way in making the entire space feel new again." And if you're feeling an even bigger update? Derby suggests trying peel-and-stick wallpaper in this space. "This renter-friendly decor hack requires a little bit of time and patience, but in just a few hours, your room will be transformed," she says.