Rhode's New Collaboration With West Elm Features All The Things We Love About Summer
Floral plates and neon pillows? Yes, please.
Courtesy of West Elm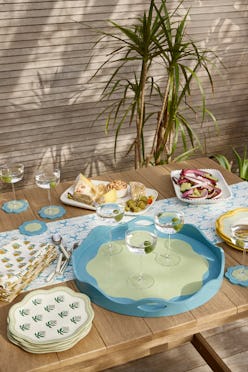 We may receive a portion of sales if you purchase a product through a link in this article.
After a successful foray into the home space last year, fashion brand Rhode is deepening its imprint in the home space with its latest collaboration. The label partnered with home retailer West Elm on an interior collection that is all about color, funky prints, and laid back summer vibes.
The 40-piece collection of pillows and textiles, decor essentials, and dinnerware combines the vivid hues and evocative patterns Rhode is known for with West Elm's responsibly sourced expert craftsmanship. It also leans into the aspects of warm-weather months people love the most: entertaining, travel, and light and bright materials.
"This collection really leans into the mood as spring shifts to summer, with warmer weather to come and entertaining under the sun and stars on the horizon," says co-founder Phoebe Vickers. "We wanted people to feel inspired to bring color and print into the home and infuse it with a sense of joyful energy that is quintessential to our main collection, and not be afraid to mix and match."
In addition to making an impact on any guests you might entertain, the colorful new collab is meant to deliver a warm and inviting dopamine boost to a space and all who inhabit it. "We love having parties and hosting people, but equally love creating beautiful peaceful spaces in our homes to host ourselves; and so the products we chose really capture those moments," explains co-founder Purna Khatau. "For example, one thing I love about being at home in Bombay, is having my breakfast of papaya and almonds in my bed — so we had to have the Wicker Tray, so you can enjoy lazy mornings in bed."
For the collection, Vickers and co-founder Purna Khatau took a trip down memory lane, pulling archival prints used on some of the brand's earliest collections. "In working with West Elm, we truly went back to our origins," says Vickers in the release. "We included a few of our signature prints — bringing the DNA of RHODE to a new medium, which has been incredibly exciting." Signature patterns like the vintage-inspired lotus, the dainty begonia, and the whimsy mushroom motif are now splashed on pillow shams, napkins, and placemats.
"When it came to the prints, a constant source of inspiration for the brand is India, where I'm from and where the brand began, we really wanted this collaboration to reflect that cornerstone of our DNA," says Khatau. "We then developed a color palette that we felt is synonymous with RHODE, whilst retaining a sense of softness for the home. The West Elm team had a great understanding of our brand aesthetic from the start, and there was a great deal of synergy between the teams and our shared vision for the collection."
The Rhode and West Elm collaboration is now available on the West Elm site, with prices ranging from $39 to $330. Shop TZR's favorites from the collection below.