Rabanne & H&M Home's Collection Is As Glamorous As You'd Expect
Chainmail shower curtain included.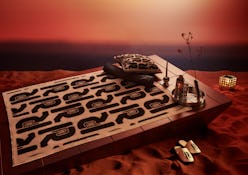 We may receive a portion of sales if you purchase a product through a link in this article.
Just in time for the holiday season, Rabanne and all its glittering, glamorous glory just launched its new collab with H&M and H&M Home — and it's breaking ground in more ways than one. Mainly, the collaboration marks the first time the legendary fashion house has stepped into the living space, creating interiors that are an extension of its flashy, indulgent designs.
"Rabanne H&M flirts with fantasy, dances through decades and dreams about the future," reads an official release on the new launch. "Bringing together the carefree exuberance of the 1970s, the optimistic futurism of Rabanne, and a touch of retro-inflected romance, the collection channels a modern vision of approachable opulence, joy and confidence."
The collaboration is not exactly news. Swirling rumors were put to rest weeks ago during Paris Fashion Week when stars gathered to officially celebrate and announce the joining of the two iconic labels. Celebrities like Robyn, Cher, Elle Fanning, Peggy Gou, Irina Shayk, Iris Law, and Ashley Graham showed up at club Silencio to dance and cheers the momentous occasion.
In addition to the opulent, metallic and floral gowns, cool structured outerwear, and sleek knit separates making up the new apparel offerings, the home collection offers consumers plenty to get excited about as well. Featuring conversation-starting statement furniture, a shiny disc curtain (reminiscent of the label's iconic chainmail dresses), angular vases, and playing cards and dice, for the first time, Rabanne's signature "sleek yet playful version of laid-back luxury" can now be captured in homes around the world.
The Rabanne H&M apparel collection is now available in select H&M stores in 10 major cities across the U.S. (including Chicago, Atlanta, Miami, and Houston) and hm.com. The home collection is available online and in two H&M HOME stores in Century City, California and the 5th Ave. location in NYC.
Shop TZR's top picks from the Home collection below before it sells out.
This article was originally published on