Quick & Easy Winter Escapes To Squeeze In Before The End Of The Year
@gracegonewandering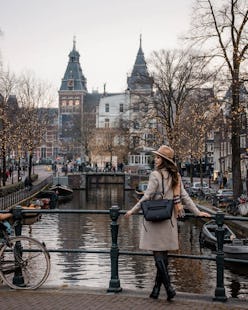 With the NYE celebrations on the horizon and the calendar about to flip the final page, 2023 is quickly coming to an end. If you're one of the many people who still have a handful of PTO days to use before the year closes out or just want to scratch that travel itch one more time, we're here to say that it's not too late to plan one final travel hurrah. Even with just a few weeks before the ball drops, there's still plenty of time to squeeze in a trip.
Given that time is of the essence, it's important to be practical. A bucket-list safari sounds great in theory but the legwork and mileage required probably put it on the travel wishlist for the future. Sure, airfare prices typically spike over the holidays, however, jetting off earlier in December tends to be way more wallet-friendly. If you have some travel flexibility — for example, can jet off mid-week or don't mind booking a less desirable departure time — it's definitely doable to score a deal on a non-stop flight to a warm-weather hotspot like Miami or even Turks and Caicos. Cities on Amtrak lines such as Washington, D.C. are great options if you're looking for a quick overnight or weekend getaway that's not too far from home and doesn't involve flying. And, of course, hopping in the car (or arranging Blacklane transport) to a cute town just outside a booming metropolis is certainly worth considering.
Scroll on for 10 quick and easy trip ideas guaranteed to add a little extra excitement (and zero stress) to your December calendar.
Denver, Colorado
Denver is the headquarters of Frontier. Say what you will about the low-cost carrier, but it means tons of cheap flights. Accessibility aside, Colorado's capital makes a great December getaway. Temps hover in the high 40s and it's usually sunny — the ideal climate for exploring the many outdoor attractions, including the Denver Botanic Garden. Seasonal events run the gamut from concerts to comedy shows. The hip River North Art District is full of great restaurants, breweries, and vibrant street art. Plus, it's just a short drive from ski resorts and snowy hikes in Rocky Mountain National Park.
Where to stay: Situated in the River North Art District, The Ramble Hotel channels its creative environs into a stylish, character-rich home with a cleverly named restaurant called Work & Class, the first Death & Co outpost outside of New York City, and comfortable, industrial-chic rooms.
Washington, D.C.
Residents of the Big Apple can hop on the Acela at the Moynihan Train Hall and pull into Union Station in less than three hours. Don't live on an Amtrak line? The nation's capital is serviced by three different airports as well. The city itself brims with museums — you could spend hours wandering the eight-floor National Museum of African American History and Culture and barely scratch the surface — and historic landmarks that tend to be less busy when the temps dip. And because the culinary scene has exploded in recent years, it's a great getaway for foodies, too.
Where to stay: Nestled along a scenic canal in Georgetown, the Rosewood Washington, D.C. is refined yet homey and inviting. The atmospheric cocktail lounge, heated indoor/outdoor pool, and suites featuring free-standing tubs and fireplaces are splendid spots to cozy up after sightseeing.
Scottsdale, Arizona
If your ultimate vacation involves posting up at a five-star resort with a championship golf course, swimming pools and hot tubs, a full-service spa, and a variety of dining options, Scottsdale definitely delivers. Since it's the town over from the largest airport in the state, it's possible to go from the plane to the piscine in as little as 20 minutes. Keen to get off the property? Hit the hiking trails that wind through the Sonoran Desert. Not just a place to unwind and partake in recreational pursuits, downtown Scottsdale has many restaurants and western-themed bars with live music.
Where to stay: Let stress melt away at JW Marriott Scottsdale Camelback Inn Resort & Spa, a relaxing respite surrounded by arid scenery. Book a tension-relaxing massage, gaze at the stars from your private casita patio, and fall asleep to the soothing sounds of the desert.
Dallas, Texas
Dallas/Fort Worth International Airport serves as the primary American Airlines hub. For travelers, that translates to heaps of flights and cheap tickets (yes, even if you book last minute). Once again proving that everything is indeed bigger in Texas, the Queen City of the Southwest boasts the largest contiguous urban arts district in the country. The 370,000-square-foot Dallas Museum of Art boasts an ever-growing collection of masterpieces, while the Nasher Sculpture Garden houses large-scale works by Picasso and Rodin. Don't leave without walking along the three-and-half-mile Katy Trail and sampling melt-in-your-mouth brisket at Cattleack Barbeque.
Where to stay: Located at the original site of City Hall in the heart of downtown Dallas, The Adolphus, Autograph Collection provides stylish accommodations, a rooftop pool deck with sweeping sightlines, and a convenient location near many attractions.
Amsterdam, Netherlands
Amsterdam Airport Schiphol is one of the major gateways to Europe, so travelers can expect plenty of direct routes and budget-friendly tickets on many carriers. Once you touch down in the Netherlands' capital in December fall under the festive spell of twinkling lights that illuminate the famed canals, holiday markets, and an ice skating rink on Museumplein. Speaking of world-class museums, the Anne Frank House and the Van Gogh Museum are a must for first-time visitors. Add to that scenic boat rides and miles of cycling paths. Don't forget about cozy cafés to feast on Dutch apple pie.
Where to stay: Assuming this is your final trip of the year, why not go out with a bang by staying at the oh-so-luxurious Waldorf Astoria Amsterdam? The five-star standout offers Michelin-starred fare, picturesque canal views, and a Guerlain Spa.
Toronto, Canada
Given the frigid forecast, you might be inclined to think of Toronto as a strange choice for an end-of-year trip. But just hear us out: Canada's most cosmopolitan city is a quick flight from virtually everywhere on the East Coast and feels quite festive during the month of December. Sure, it's bound to be cold. Just adopt the Canadian attitude of "no bad weather" and bundle up to explore the many breweries and shops in the light-festooned Distillery District. Then eat your way through Kensington Market, a diverse, flavorful area that tantalizes tastebuds with bakeries, taco shops, dive bars, cheese shops, and trendy cafes.
Where to stay: The Four Seasons Hotel Toronto towers above the upscale Yorkville neighborhood. The walkable address and rooms with skyline sweeps instill a sense of place. With that said, while indulging in a blissful massage at the spa, it's easy to forget where you are entirely.
Turks and Caicos
Turks and Caicos isn't just one of the prettiest places in the Caribbean (and that's saying something), it's also along the most accessible with direct Providenciales-bound flights clocking in at just three and a half hours from takeoff to touch down. Grace Bay — which you've no doubt seen plastered across tourism brochures, postcards, and social media — commands attention IRL. It's worth mentioning that stretches of pristine white sand and turquoise water are everywhere. It's truly a slice of island paradise for snorkeling, jet skiing, and windsurfing. Seaside shacks with fresh fish, stiff drinks (rum punch, anyone?), and live music beckon after lazy beach days.
Where to stay: Tucked away from the Grace Bay crowds on beautiful Long Bay Beach, The Shore Club is a swish boutique resort with coastal-chic rooms, suites, and villas as well as a spate of luxe amenities — from swimming pools to tennis courts — and multiple restaurants.
Miami, Florida
Between Art Basel (December 8 to 10) and the myriad holiday and New Year's Eve happenings, the party doesn't stop all December long in Miami. You can hop on a flight from JFK or LGA after work and be in the Magic City with plenty of time to get glammed up for a late dinner at a trendy restaurant before hitting the club or heading to a gallery opening. During the day, the weather is flawless for catching some rays. To really embrace vacation mode to the max, rent a poolside cabana or serviced sun loungers right on the beach.
Where to stay: Occupying an Art Deco building on Collins Avenue in buzzy South Beach, Soho Beach House attracts a mix of the see-and-be-seen local crowd and snowbirds looking to escape the cold. And, no, you don't have to be a member to book a bedroom, which carries perks like the use of the adults-only rooftop pool.
Los Angeles, California
Whether you live in Los Angeles and want to explore behind the confines of your neighborhood, are planning to road trip from somewhere else in the Golden State, or scored a cheap, last-minute flight to LAX, we wholeheartedly endorse a December trip to La La Land. Renting a car is essential to pack in all the museums, acclaimed restaurants, and cool cultural events. Film buffs can do studio tours and live out cinematic moments while shopping along Rodeo Drive. With hiking trails, state parks, and sandy beaches within driving distance, it's possible to seek out fresh air and sunshine without leaving the metro area.
Where to stay: Angelenos know Hotel Figueroa as a DTLA staycation gem with heaps of history and creative, fresh energy. Superb for out-of-towners too, the property, now part of The Unbound Collection by Hyatt brand, possesses a celebrated restaurant and art-adorned rooms that feel like individual retreats.
Asbury Park, New Jersey
Asbury Park has benefited from major investments over the past few years that have put it squarely on the tourist map beyond just the summer. In addition to the beautiful mile-long beach that's flooded with sun worshipers during the warmer months, this classic Jersey Shore town presents ample off-peak opportunities to soak in the nostalgic atmosphere. The perfect place for coat-clad strolls, the Asbury Park Boardwalk supplies great food, souvenir shops, arcades, and colorful murals. It's worth noting that all this seaside fun awaits just 75 minutes by car on the Garden State Parkway from New York City.
Where to stay: The top-rated hotel in town, the Asbury Ocean Club gives off sleek and chic, contemporary beach house vibes with 54 guest rooms featuring expansive private balconies, a light-filled lounge for cocktails and conversation overlooking the pool, and a well-being spa.