Warm-Weather Vacations That Will Extend Your Summer
September is a great time to get away.
Craig Pershouse/The Image Bank/Getty Images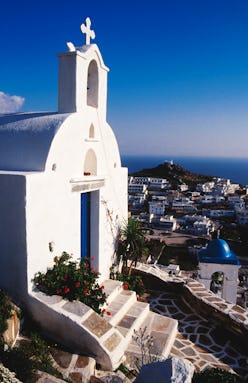 Between the sunshine, beach sessions, quality time with family and friends, and more vacation (at least for many people), no one wants summer to end. One of the best things about this beloved period of long, warm days is the chance to jet off (or drive) somewhere amazing to take advantage of the weather, outdoor activities, and cultural happenings. But somewhere between the ice cream cones and 8:30 p.m. sunsets, time flies by and all of a sudden it's almost Labor Day — and those dreams of a big trip just never happened.
If you didn't make it to Europe or a coastal hotspot in the United States during the peak period of June, July, and August, there's absolutely no need to feel any travel FOMO. September is the ideal month to live out those endless summer fantasies at sun-soaked destinations across the globe, from Italy and Portugal to Southern California and Colombia.
Don't pack up that swimsuit and sunscreen just yet. Take a look at our list and be sure to book an early fall trip to one of the hotspots below. Summer is a state of mind, so follow the sunshine and keep the vibes going.
Comporta, Portugal
A few years ago, most people had never heard of Comporta. Today, it's a haven for in-the-know travelers seeking a relaxing sabbatical by sea. That's because this low-key fishing village turned holiday destination on the coast of Alentejo epitomizes a breezy beach vacation with access to noteworthy sandy stretches (hello, Praia da Comporta and Praia do Carvalhal), plus nature-oriented activities like dolphin watching, horseback riding, a clutch of stylish boutiques, and seafood restaurants.
Where to stay: The perfect pastoral refuge that's still just a few minutes from the beach, Sublime Comporta sits on an estate studded with cork and pine trees. The accommodations channel sophistication and ease. And the food — like the rest of the property — takes cues from nature with ingredients plucked from the organic garden.
Cartagena, Colombia
Colombia's steamiest city, Cartagena oozes Spanish-meets-Caribbean flavor. Exuberant and endlessly charming, the soul of this photogenic port is its UNESCO-listed Old Town, a maze of cobblestone streets, colorful buildings with bougainvillea-draped balconies, attractive churches, and vibrant plazas that are encircled by 16th-century stone walls. A prime coastal position gives travelers the ability to visit beautiful beaches and off-shore Rosario Islands with ease. And the balmy climate means it's still swimsuit season in September.
Where to stay: Hidden behind a large wooden door in Old Town, to-Casa San Agustin supplies an oasis of tranquility inside a trio of restored houses. The contemporary enhancements still leave plenty of room for the historic elements such as original frescoes and wood-beamed ceilings. Plush perks include a swimming pool and private guests-only beach.
Anguilla
While hurricane season often rocks much of the Caribbean, Anguilla sits in a unique position that's historically spared the island from storms. That's good news for sun-worshippers. Feel the sand in your toes, catch some rays, and swim in the turquoise tides at famous beaches like Rendezvous Bay. Fancy a little sightseeing? Cruising around in a candy-colored, convertible Moke with the wind whipping through your hair is an absolute blast. Don't forget to stop by Sunshine Shack for fresh grilled lobster.
Where to stay: Defined by its sophisticated seaside style, cascading infinity pools, and far-reaching ocean views, Malliouhana sets the standard for boutique luxury in Anguilla. The why-bother-to-leave atmosphere, delicious food and drinks, and cheeky animal murals in the rooms give off Caribbean White Lotus vibes. The spa is a sanctuary for tropical rejuvenation.
Capri, Italy
Few places have the pizzazz and wow factor of Capri. Some travelers actually prefer to skip the more mobbed summer months in favor of the more serene shift that happens when the crowds disperse in early fall. If you're worried about things feeling a bit too slow, don't be. The designer boutiques, glitzy restaurants, five-star hotels, and glamorous beach clubs like La Fonetelina are open well into September. It's also an opportune time for boat tours to see the magical rock formations from the water and hiking.
Where to stay: Located in the quiet enclave of Ana Capri, Capri Palace Jumeirah offers a respite from the often crowded streets on the other side island. Rooms and suites are tailor-made for unwinding with a palette of white and sand. The spa follows suit with indulgent well-being rituals. As do the peaceful outdoor swimming pool and groomed gardens.
Miami, Florida
The most sizzling spot in South Florida, Miami is synonymous with palm-fringed beaches that stretch for miles along the coast, dance-til-dawn nightlife — from clubs blaring house music till the wee hours of the morning to upscale cocktail bars — look-at-me fashion, and see-and-be-seen hotel scenes. In recent years, the Magic City has emerged as a culinary mecca with a spate of lauded restaurants. With galleries, museums, and colorful murals in Wynwood, there's plenty to appeal to art lovers, too.
Where to stay: Drive north on Collins Avenue away from the nightclubs and bars in South Beach and toward the designer shops in Bal Harbor. In about 20 minutes you'll arrive at Four Seasons Hotel at The Surf Club, Surfside, an elegant oceanfront retreat
Malibu, California
An iconic California destination that's the star of countless songs, films, and vacation fantasies, Malibu is the ultimate beach getaway with a warm, sunny climate that makes it exemplary for spending time outside. It's a particularly legendary locale for hiking and surfing. After a day exploring the coastal trails in the Santa Monica Mountains National Recreation Area or riding waves at Surfrider Beach (simply watching from the comfort of a blanket on the sand also counts), head to Malibu Seafood for fresh-caught red snapper and steamed clams.
Where to stay: Set along the iconic Pacific Coast Highway, The Surfrider channels old-school road trip energy in the coolest, contemporary way imaginable. The former roadside motel turned boutique hotel takes cues from local surf culture and Malibu beach houses. The atmospheric guest-only rooftop serves cocktails alongside sweeping ocean views.
Ios, Greece
Part of the Cyclades group in the southern Aegean Sea, Ios is a Grecian gem with something to appeal to every type of island-hopper and guaranteed picture-perfect weather in September. While it's a popular destination in the summer month, things slow down a bit in early fall giving travelers a great mix of ease and excitement. Expect scenic hikes, historic sites, lazing on Manganari Beach, boat tours, sherbet-hued sunsets, eating all the Greek salad, and dancing under the stars.
Where to stay: Tucked away in a quiet corner of Ios that's basked in sunlight, Calilo is an artsy, family-run, 30-room retreat that feels right at home between ancient olive trees and cerulean waves that lap the golden sand. It's the sort of place that invites guests to come to dinner with salty hair and a kaftan purchased at some local boutique in town.
Singapore
For a tropical vacation with cosmopolitan sophistication pack your bags for Singapore. Rich in multicultural heritage, this Southeast Asian island nation dazzles with dynamic neighborhoods, striking architecture, and a diverse culinary scene. Foodies flock to the hawker centers to sample delicacies such as chili crab and laksa. Fine dining restaurants treat patrons to unforgettably elevated epicurean experiences. It's also a mecca for shopping with modern mega-malls that showcase international luxury brands and local designers.
Where to stay: Situated in the heart of Sentosa Island and enveloped by 30 acres of tropical gardens, the five-star Capella Singapore is the best place to escape the city without straying too far from all the urban excitement. Though, the elegant accommodations, three swimming pools, and resplendent spa do inspire staying put.