The Most Iconic NYE Celebrations Around the World
franckreporter/E+/Getty Images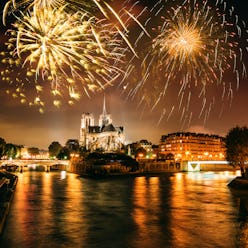 Believe it or not but December 31 is all of two months away. Yep, that means you're likely already behind on your New Year's Eve plans, right? Maybe this doesn't stress you out as you have every intention on staying home with a pizza and a nice bottle of wine. More power to you. But for those who want to go big for the end-of-year festivities, the time to book a flight is nigh. If you're scrambling for ideas on an epic NYE, don't worry, the options are truly endless.
Yes, across the globe there are countless iconic New Year's Eve celebrations that are sure to make for a memorable trip. You don't even necessarily need to whip out your passport — New York City's Times Square is arguably the ultimate NYE destination, thanks in large part to its signature ball drop and the spectacular musical guests that make the streets their stage for the big night. If you don't mind the idea of jetsetting a bit, places like Rio de Janeiro and Bangkok offer truly spectacular all-night parties. And, of course, if you're in the mood for a little romance, there's always Paris.
Ahead, see our list of some of the cities around the world that throw the most epic NYE celebrations and experiences for travelers who want to end the year on a high note.
Bangkok, Thailand
There's a reason people come from far and wide to celebrate NYE in Bangkok. Perfect for foodies and dancing queens alike, the "angel city" offers up major celebrations this year. For starters, there's ICONSIAM, which includes an epic traditional Thai dinner and boat cruises on The Chao Phraya river. Also, there's no shortage of rooftops to listen to DJs and indulge in a drink or two (or more) — there's Vertigo and Moon Bar, Three Sixty, and Cloud 47 to name a few. If you prefer to stay on firm ground, the celebrations certainly take to the streets or beach on December 31 — try dancing the night away on Khao San Road or head to the water at Bangkok Island.
Rio de Janeiro, Brazil
If you've got Rio on your travel radar, New Year's Eve is an ideal time to plan a trip. The city literally lights up, thanks to its epic bash on Copacabana beach and the massive fireworks display that splash across the South American sky. If you want to avoid the crowds that flock to the beach, there are plenty of beach kiosks at which to book a table and enjoy the spectacular presentation in relative quiet and solitude.
Dubai, UAE
Where else to go big for New Year's Eve than one of the most opulent and extravagant cities in the world? Like its skyscraping buildings, the celebrations are truly grand, from the Burj Khalifa fireworks (which are televised every year and draw crowds as early as seven hours prior) and those at the famous Atlantis, The Palm to the all-night club action at places like Bahri Bar and Barasti Beach. For a truly indulgent experience reserve dinner reservations at the legendary Dubai Opera and stay for the DJ, which kicks off after midnight. You can also take your meal to the sea, with a Dhow Cruise experience, which features live music and a chef-prepared feast.
Jost Van Dyke, British Virgin Islands
For a more laid-back, but equally memorable New Year's Eve experience, head to the sailor's paradise (including Richard Branson's) that is the British Virgin Islands, where you can spend the final week of the year exploring the cluster of islands and cays (about 60 total) by catamaran or yacht. Let loose on December 31 at local institution Foxy's on Jost Van Dyke, where hundreds of boats and locals fill the restaurant's dock and surrounding bay for fireworks, live music, decadent local cuisine, and lots of painkillers, BVI's signature rum-infused cocktail.
Sydney, Australia
While Australia may seem like quite a distance to travel for a NYE party, rest assured the long journey could very well be worth it. Sydney's fireworks program, which is viewed by some 425 million people around the world, consists of two shows at 9 p.m. and midnight and is nothing short of electric. In addition to the magic in the sky that haloes the Sydney Opera House, the city's famous harbor also becomes a spectacle as boats, produced by the city's Commercial Vessels Association, decked in lights float across the water as visual masterpieces.
Goa, India
While India is widely known as a spiritual haven, it seems the country also knows how to throw a great party, especially in the lively city of Goa. The coastal paradise is widely known for it's Dec 31 festivities, which include all-night extravagant gatherings across the city's resorts, clubs, and beachside hubs. As a visitor, you can expect epic fireworks, underground electric music festivals, and midnight boat cruises. One thing you can't expect on your trip to Goa? Sleep.
Paris, France
Paris is always a good idea, but it might be particularly genius at the end of the year. The romantic city is a great place to spend the final days of 2023 with a loved one (or several) to end the year and start the new one on loving note. The NYE activities are truly endless and oh-so Parisian: take a dinner or Champagne cruise down the Seine, have lunch at the Eiffel Tower, take in a cabaret at Crazy Horse, a classical music concert at La Sainte Chapelle, or a show at the Moulin Rouge. And, of course, once the clock strikes midnight steal a kiss under the epic fireworks that light up the Champs Elysées.
NYC, New York
It doesn't get quite as iconic as NYE in NYC, right? For almost 120 years, Times Square has been the ultimate epicenter for Dec. 31 celebrations, between the famous ball drop, endless parties, and live media coverage. This year is no different, with a jam-packed itinerary of events starting as early as 6 p.m. that night. If you make the venture to the bustling NYE party capital of the nation, you can expect everything from an SAFA Chinese Cultural Performance and live music courtesy of Ava Max, New Edition, and Duran Duran to an epic confetti release experience at the stroke of midnight to accompany the aforementioned ball dropping. It truly will be the party of the year.