Yes, You Can Do Amsterdam In 3 Days — Here's How I Did It
Make the most of your time in the Netherlands' capital.
Andrey Danilovich/E+/Getty Images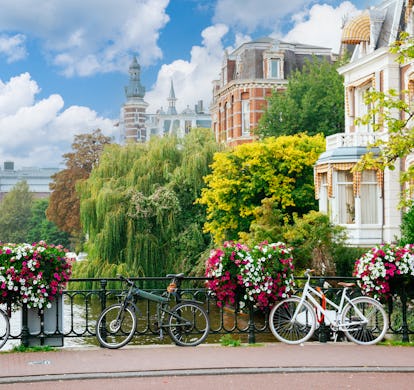 Amsterdam Airport Schiphol is a major hub for international travel, not just to the Netherlands but as the entry point to much of Europe. It welcomes an average of 960 flights from dozens of different carriers each day. As far as transatlantic fares go, the roundtrip ticket prices to fly from the East Coast — a journey that takes approximately seven hours — are some of the most reasonable around. Starting at the end of August, travelers will have even more lost-cost options thanks to new JetBlue nonstop routes from New York (JFK) and Boston (BOS). All of these factors make Amsterdam quite a convenient destination for East Coasters to go for a long weekend getaway.
Of course, it's not just logistics that would influence someone to pop over to Netherlands' capital for a few days. As someone who has traveled to Amsterdam four times — most recently in late November/early December with my husband and toddler as well as our dear friends — the cultural and culinary offerings just keep getting better with each visit. Yes, it might come as a surprise to some that a place so well-regarded for its rich heritage continues to evolve in such exciting ways but that's just one of the many things I love about this dynamic city. Another positive is the ease of getting around. Everyone (seriously, even little kids) rides a bike. It's also quite walkable, so if you're not ready to commit to riding around, just pack comfy shoes and hoof it.
If the idea of a quick jaunt across the Atlantic Ocean to Amsterdam fuels your wanderlust — like it does for me — scroll on for the best spots to eat, drink, shop, and go sightseeing. I promise it'll be worth battling jet lag for 72 hours. And, hey, if you get tired, there are so many great coffee shops (to be clear, I'm speaking of the ones that actually serve lattes).
Where To Stay
I've stayed at The Hoxton, Amsterdam twice and will definitely be returning. It has an unbeatable location along Herengracht canal and a laid-back yet lively vibe. During the day, you'll see a lot of people working on their laptops and drinking flat whites in the lobby lounge. At night, that shifts to fireside cocktails and conversation with friends. The biggy rooms are extremely spacious, especially for city-center lodgings. Too wiped from a jam-packed day of sightseeing to venture out? Rest easy knowing the food at Lotti's is excellent.
Another canalside gem a few streets away, Pulitzer Amsterdam feels more polished and grown-up. It's the place I recommend to my friends who prefer a five-star hotel. This elegant boutique property encompasses 25 Golden Age houses dating back to the 17th century, so it's brimming with character and charm. The uniquely designed, jewel-box rooms and suites have luxurious touches like velvet sofas and marble bathrooms.
Cultural
The historical center of Amsterdam, Dam Square, is a good place to start your sightseeing adventure since it's home to many notable tourist attractions — including the neoclassical Royal Palace, the National Monument, and the 15th-century Nieuwe Kerk (New Church).
While the Netherlands' capital has far too many museums to pack into a single trip — let alone one that's just a few days — it's advisable to try hitting at least a few. The first-timer circuit includes the Van Gogh Museum, Anne Frank House, and Rijksmuseum. (Just do yourself a favor and buy tickets in advance.) Fans of art who want to branch out a bit should also consider the Moco Museum, STRAAT Museum, and Nxt Museum.
One of the more enchanting and efficient ways to see Amsterdam is a cruise along the picturesque canals. Booking the classic salon boat "Tourist" allows you to ride in historic style on a private vessel that once hosted Winston Churchill and customize the route based on your interests. On my most recent trip, our captain — who also happened to be a lifelong Amsterdam resident and history major at university — suggested visiting Museum Van Loon. The next day, I was admiring the period furnishings and portraits in the grand old canalside house.
Amsterdam also really delivers in the outdoor department. When the weather cooperates (or provided you packed appropriately for the rain), it's quite enjoyable to take a stroll through Vondelpark. Cycling tours of the countryside are very beautiful, but that's something I'd personally hold off on until I maxed out more of the city sights. Though, that's totally up to you.
Shopping
Amsterdam should get more credit as a shopping destination. Designer stores — Bottega Veneta, Prada, Chanel, Gucci, Hermés, and more — line Hoodtstraat, a high-end street that's not far from Museumplein and Vondelpark. De 9 Straatjes is chock-full of chic boutiques that sell local and international brands. If you don't have all day to browse around, just hit Velour Amsterdam and Unrecorded. Cheese lovers from around the world flock to De Kaaskamer. 360volt is a gallery, workshop, and store rolled into one that stocks a huge selection of lights, from refurbished 1920s dentist floor lamps to meticulously restored old-school floodlight film spotlights.
There's also a solid vintage scene. For retro threads, beeline it to Carla Palermo, Rumors Vintage & Design, and We Are Vintage. True to its delightfully quirky persona, the city also has some totally unique retailers that deserve a shoutout — notably the Otherist, which sells all sorts of curiosities like specimen cubes with globe thistles inside, brass snail-shaped paperweights, and porcelain bird skulls that make memorable souvenirs and gifts for folks back home.
Food & Sips
There are a few things visitors *must* eat when in Amsterdam. Pancakes rank high on that list. Pancakehouse Upstairs is something of an institution for sweet and savory classics. Prefer not to take up time at a sit-down establishment or just want to break with tradition a bit? Head to The Happy Pig Pancake Shop for rolled riffs on flapjacks that you can enjoy on the benches out front or while walking. Another great grab-and-go snack? Crispy, golden Dutch potato fries from Fabel Friet smothered in homemade curry ketchup or truffle mayo. The general consciousness amongst locals is that Café Papeneiland and Winkel 43 have the tastiest Dutch apple pie in town. The latter also receives rave reviews for its bitterballen, a popular deep-fried Dutch snack that's similar to croquettes. Herring gets a bad rap. But when prepared correctly, it's actually quite palatable. The best place to get your pungent fish fix? Amsterdamsche Vischhandel. It's the only reason you'll find me in the Red Light District.
When you need a caffeine pick-me-up to power through the jetlag, choose between any one of the countless cute, cozy cafes (not to be confused with "coffee shops," which mean something entirely different in Amsterdam). Black Gold, Scandinavian Embassy, and Hummingbird are a few of my favorite java joints.
Modern, innovative Dutch cuisine served in the style of multi-course tasting menus put Bak on the map and inspired many restaurants to follow in its footsteps. For another culinary experience, you won't soon forget that's certainly deserving of a few hours, score a reservation for lunch or dinner at De Kas. The seasonal small plates, extensive selection of wine by the bottle, and heaps of cozy vintage charm number among the reasons I will certainly return to Gertrude Rest. & Bar. Bambino knocks it out of the park with natural vino and artfully plated veg-forward dishes. Pulitzer's Bar, Rosalia's Menagerie, and Door 74 are my picks for a nightcap.