Michelle Norris' Dopamine-Dosed Home Is Encapsulated Joy
Maximalism done so right.
@michellenorrisphoto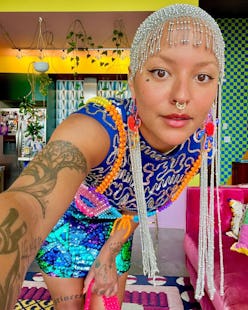 We may receive a portion of sales if you purchase a product through a link in this article.
These days, the living space is yet another extension of one's personal style. TZR's series Home In 5 digs into the key elements, items, and inspiration behind the chic homes of top influencers. Here, we sit down with content creator and photographer Michelle Norris and chat about her eclectic and colorful Atlanta home.
They say life imitates art. Well, Michelle Norris is proof of that. The Atlanta-based photographer and content creator, known for her "dressed in rainbows" style, is constantly bathed in color, whether via her high-octane ensembles, the playful imagery she captures for her photography business Tropico Photo (which she runs with husband Forrest Aguar), or her vibrantly decorated home.
"I think my sensibility has always been very colorful and bold," explains Norris on a recent Zoom call with TZR. "So we went that direction with our work and then I think it kind of overflows in everything we do. Once we had a space that we actually owned, that we could do more permanent sort of changes to, I think that we just really ran with that."
Ran with it indeed. While Norris' #ootd may still be focal points on her IG feed, her living space is certainly giving her followers a run for their money. An eclectic mix of pattern play, bright hues, pop art decor, and lush greenery, you'd be hard-pressed to find a boring corner in the one-bedroom abode.
Norris explains, that despite the collage-like effect, her home's aesthetic was much more strategic and carefully planned than one might think. "It was all white when we bought it, so I took the photos of the space and mapped out how I was seeing the colors on the walls and then we built out from there," she says. "So paint colors wise, I think it has six or seven colors total that are used throughout the space and then we filled in over time with quirky and fun pieces that we found."
It's this use of a base palette of yellow, green, blues, orange, and pink that deliver such a chic end result. Norris' home reads like a modern art museum, with an interesting use of shapes, prints, and color-blocking that come together in an elevated and cohesive way. Ahead, the photographer breaks down her funhouse of a home and the pieces and spaces that bring her joy and inspiration.
What is your favorite lounge spot in your home?
It's hard to say because it is just a really comfortable space, but probably the bedroom because it's just really cozy and comfy in there and the whole space has a lot of natural light. So while it's a little bit closed off from the rest, it feels cozy. It also has a great big window in there that makes it really bright [...] With the bedroom, everything is a little bit tighter with those side tables that go next to the bed. We wanted the bed to fill the majority of the space — I always say I love a bedroom that is mainly bed.
What is your most recent home purchase?
I think the most recent thing might have been our dining room chairs. I'm trying to think where we got them. But they were a collaboration with Dusen Dusen and another [furniture company] Dims. But yeah, they're color blocked chairs that we finally replaced our old IKEA chairs with.
What is your favorite home purchase?
This is a funny one, but we have a flamingo on the wall in the living room. Forrest got it for me from a kid's store years ago. But I love it. I feel like it's so unique. The flamingo's coming out of the wall and it's felted and handmade. So [when] I think of that one it always makes me smile and I think about what a fun piece it is.
What item do you use the most in your home?
Maybe the giant mirror in the bedroom. It is a big part of my life, but it is something that I feel like is used constantly and we had that fun frame made for it, so it's extra fun now.
What's the biggest conversation starter in your home?
This is actually easy: Our coffee table is a naked woman. She's doing a yoga pose on her hands and legs. Our friend's dad made it in the '80s when he was making all of this furniture of naked people that was very modular and came apart and stuff. So her boobs lift up and there are little areas that you can keep stuff in. So there are little compartments inside of there. Without fail, everyone that comes to the house is like, 'Oh my gosh. The table's a person.' And we're like, 'Yes it is.' And then [they] discover that [it has] compartments. And so that is always drawing attention.