A Jewel-Toned Kitchen Just Might Be The Refresh Your Home Needs
@devolkitchens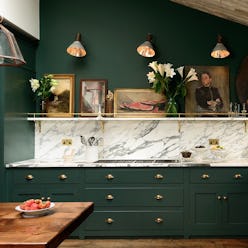 We may receive a portion of sales if you purchase a product through a link in this article.
When it comes to kitchen design, light and bright tends to be the norm these days. But, if you've been paying any attention to home trends over the past few years, you may have noticed a departure from this ethos. Rather than opting for white, neutral, or pastel color schemes, many people are starting to gravitate towards jewel-tones (think rich greens, sapphire blues, and rich rubies) as a way to enhance their kitchen spaces. Interior designer and owner of curated furniture store, West Haves, Olivia Scott, believes people are "...drawn to the drama and richness that these colors can bring to a space." In comparison to the starkness of all-white minimalism, jewel-tones "...add a sense of depth that feels soulful, warm, and inviting," which, considering the way the last few years has changed how we relate to our private spaces, feels especially aligned with our current expectations for the home.
In terms of what jewel-tones work best in the kitchen, Scott is partial to "deep garnet and ruby reds," which she says complements a wide variety of textures and finishes. "They look equally beautiful when juxtaposed with expanses of lighter toned materials such as carrara marble and clean quartz or when paired with darker tones like slabs of soapstone and calacatta viola." Citrine is another color at the top of her list which she notes works well with other jewel-tones like sapphire, emerald, and amethyst. She finds the yellow/green especially effective when paired against contrasting textures and patterns. This goes hand in hand with her penchant for using moodier colors in eclectic homes where they can be used in conjunction with fun wallpapers and cozy textiles.
However, jewel tones typically don't discriminate when it comes to your preferred aesthetic. "They can add dimension to a more modern or minimalist space, or they can magnify the opulence of a traditional or ornate style," Scott attests. For tips on what to consider before implementing the trend in your own home, keep reading. Scott's top three pieces of advice are below.
Do Your Research
Before making any rash design decisions, no matter how inspired, Scott recommends taking the time to do your research. A first step for her always consists of making a mood board with imagery that resonates. This can be especially helpful if you're struggling with narrowing down the kind of feel you want your kitchen to have. "Since even painting cabinetry can be a big expense when done professionally, there is no harm in taping up color boards or swatches and living with it for some time prior to making a decision," Scott says. It's also very important to gather all of your potential materials ahead of time in order to suss out how they look together as well. According to Scott, "Seeing them side by side before making commitments will ensure you pull off a design that is thoughtful and harmonious."
Consider Your Existing Color Palette
Even though a jewel-toned kitchen works nicely within a variety of different design styles and settings, if the rest of your home is done in neutrals, it may not be the right direction for you to go in. A well-designed home's goal is always a consistent design language, hence if you have one standout room amidst a sea of beiges, the odds of it feeling disorienting are high. If this sounds like your situation, Scott suggests implementing darker tones "...in your upholstery, accessories, or window coverings for a more subdued approach." Similarly, if you love jewel-tones, but "...the idea of living day to day with a bold color doesn't feel authentic, then incorporating jewel tones as accents rather than as the dominant color scheme may be a better starting off point. "
Size Doesn't Matter Here
At first glance, jewel-tones may seem better suited to larger kitchens, with the general consensus being that darker colors can make a small space feel even smaller. But, Scott disagrees with this sentiment, explaining, "I do think people tend to shy away from using bold colors in smaller spaces but I actually think it can create a really beautiful jewel box effect." In her view, as long as the proper considerations are being made in relation to "balance, cohesion and visual contrast," the scale of your kitchen shouldn't matter if jewel-tones are calling to you. Ultimately, "Playing with color is a wonderful way to make a statement and create an environment that is visually and emotionally evocative, inspired, and unique."
To bring a bit of color into your kitchen today, shop our jewel-toned picks, below.